A Mixed Week of Dining
Saturday, March 21st , 2015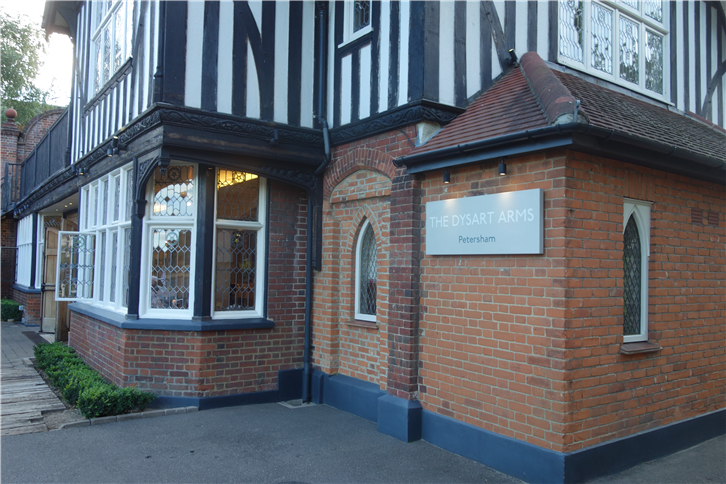 Honey & Co has a chef that previous worked at Nopi, and not surprisingly the cuisine is also Middle Eastern. It is a simply, tiny place that was very busy, but although most of the dishes that I tried were fine they did not seem to be as polished as those that I had eaten at Nopi. The menu has some quite imaginative dishes, but at my meal the execution did not always live up to the promise, such as with some rather flavourless chicken and, worse, a wildly over-sour lemon cheesecake. This restaurant clearly has plenty of fans, but given the hardly low prices its appeal was not immediately obvious based on this meal.
Caxtons is the restaurant of the St Ermins hotel in St James, a building with an interesting history – amongst other things it was the original HQ of MI6. The head chef was away at a cookery competition rather than on a secret mission (as far as I know) but the net effect was the same – yet another UK meal where the head chef was absent. I really don't care about this if there is a well-oiled kitchen brigade able to operate just fine without supervision, but tonight we experienced a very erratic meal with dishes ranging from good to barely edible. I presume that things are more consistent when the head chef turns up, but as a paying diner such experiences are frustrating.
I had better fortunes at two of my regular haunts. L'Amorosa is the local Italian restaurant that Andy Needham, ex Michelin starred head chef of Zafferano, has bought in west London. His pasta dishes have always been excellent, as was the case this week with a dish of papardelle with ragu of guanciale. The staff are friendly here and the prices very fair indeed, so it is easy to see why this place has been packed even through the usually challenging months of January and February.
The Dysart (pictured) has a very talented young chef, and I hope that at some point Michelin recognise just how goo he is. Some of the signature dishes here, such as the charred mackerel with kombu braised daikon, ginger and champagne, are genuinely classy. Many of the vegetables used are grown in the garden at the back, the excellent bread is made from scratch, and the wine list is a bargain. Throw in the welcoming room with blazing logs in the fireplace in the corner and the fair prices and you have a superb overall experience. If you have not tried it then I highly recommend the journey out to Petersham (not too far from Richmond tube).
The new Michelin guide to Rio de Janeiro and Sao Paolo appeared in a less than co-ordinated manner online, with the Michelin website showing the stars well ahead of the official 8th April launch date. It seems that D.O.M. in Sao Paolo got two stars, with ten restaurants in Sao Paolo and six in Rio getting one star. Hopefully Michelin's tyres have a better grip on things than their PR deaprtment.