London's Latest 3 Star Restaurant
Saturday, November 16th , 2019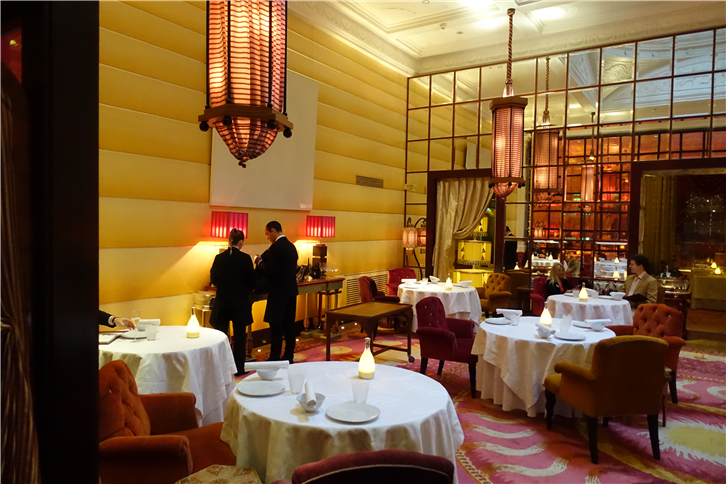 Emilia is an Italian restaurant in the space that used to be occupied by Bonhams, located in the Mayfair auction house of the same name. It is now an Italian restaurant, and the meal that we ate included some enjoyable dishes such as a risotto of celery, venison ragu and a quail dish. There was a little unevenness in the kitchen but the service was excellent, and the place was doing very well.
Napoli On The Road is a pizzeria opened by a pair of Naples natives, one of whom worked as a pizza chef ever since his childhood, growing up in the family's pizzeria. This is a promising background, but for some reason they have not installed an oven that gets to the 500C required (according to the rules of the Associazione Verace Pizza Napoletana) for an authentic Neapolitan pizza. This means that the pizza takes longer to cook than the defined ideal, and although the pizza was nice enough, with a decent base, it was indeed not as good as at somewhere like 50 Kalo di Ciro Salvo or l'Oro di Napoli, who are equipped with the full-on ovens that cook a pizza in under a minute.
Sketch in Conduit Street has two restaurants, the more formal one upstairs being under the direction of Pierre Gagnaire and serving the same style of modern French food. A trait of Gagniare's cooking is that a single ingredient appears in several forms on separate little plates. This can be interesting but also a bit overwhelming at times, as you try and recall what your fifth plate of langoustine consisted of. The place itself is very smartly decorated and the service is silky smooth. However the food is much as I recall from my visit several years ago, since when it has been promoted by Michelin not once but twice. This elevation is baffling to me based on this meal, which had some good dishes but nothing remarkable. The only thing three star about this meal was the bill.