A collection of London openings
Saturday, June 06th , 2015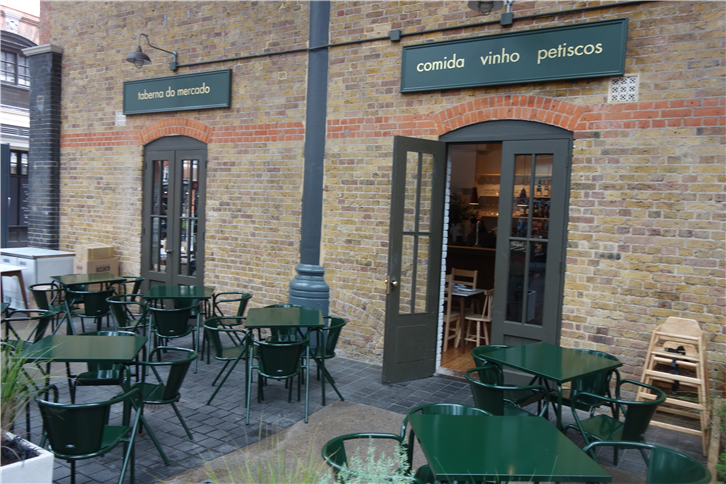 Sukho is a pleasant Thai restaurant in Fulham that has a couple of sister places elsewhere in London. It is a simple local place with an appealing menu, but the cooking was inconsistent. Stir-fried vegetables with garlic were enjoyable, as was the classic Pad Thai noodle dish. Unfortunately a monkfish was seriously overcooked to the point of mushiness, and the scallops were also overcooked. There were more hits than misses, and overall it was a decent enough neighbourhood place, but not more.
Taberna do Mercado (pictured) is a Portuguese tapas-style restaurant from Nuno Mendes, going back to his roots after the more international style of Chiltern Firehouse. The bustling Spitalfields Market location is idea for the all-day format, and the place was buzzing. The best dishes, such as fried shrimp dumplings and a plate of cuttlefish and pigs trotters, were excellent. Not everything was to the same level, and the bill quickly mounts up as it always seems to in London with this format of ordering. Still, it is good to see a place doing Portuguese food well, and it is clearly prospering.
Melody is the restaurant of a boutique hotel that has been opened in the old St Pauls School building in Hammersmith. The red-brick building is gorgeous (featured in the first movie that Alan Parker scripted) but sadly the cooking did not live up to the surroundings. The quite formal restaurant is far from cheap, yet seems to have opted to use ingredients that are remarkably devoid of flavour, from sad scallops to manky mango. This is a shame as if they ever get a decent kitchen operation here it would be a lovely summer spot.
I had another excellent meal at Bonhams, the best new discovery I have made in London this year. The ingredient quality is evident here, from Luberon asparagus to a sweet scallop sashimi. The short menu is appealing and focuses on flavour rather than chef gimmicks, and the bread here is terrific. The best dish of all was a strawberry dessert using top-notch gariguette strawberries from the Rungis market in Paris, which had glorious flavour of the kind it is all too easy to forget if you are used to British supermarket strawberries.
I won't add to the virtual ink spilled over the latest St Pellegrino list, other than to refer you to my post about it last year: https://www.andyhayler.com/blog?type=search&keyword=pellegrino