Putting on The Ritz
Saturday, January 11th , 2014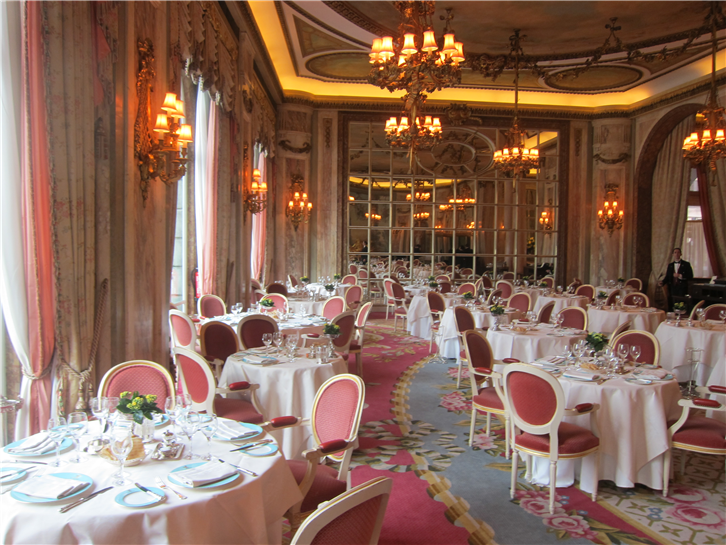 Bob Bob Ricard is a wine-lover's restaurant, with an unusual approach to its wine mark-ups. At the cheap end of the list it is little different to many London restaurants, but it has something approaching a flat mark-up at the high end. This means that if you want to splurge on a serious wine then the price you will pay here is much lower than any other central London restaurant. Indeed the list gleefully points out the comparative price of its high-end wines at several of the capital's top restaurants, frequently being many hundreds of pounds lower than at the capital's top dining rooms. The food is pleasant enough, but the wine list is reason enough to come here when you are in the mood to celebrate.
Pont Street is the new restaurant in the Thompson Hotel that has taken over from the short-lived Hix Belgravia. The new chef is Sophie Mitchell, previously private chef to Claudia Schiffer, amongst other things. The menu here is heavily oriented to seafood, and I had a lunch and a dinner here to try a decent range of dishes. The cooking is capable, the menu appealing and the service particularly friendly, the drawback being the high prices. Sure, this is Belgravia, but it really shows in the prices of starters, small plates, side dishes and wine, though there is a fairly modest £20 corkage option available.
The Ritz has perhaps the grandest dining room in London (pictured), vast and opulent. Over numerous meals here in the last two years I have been deeply impressed with the standard of cooking that now emanates from its vast kitchens, a world away from the level that was served here a decade ago. Ingredient quality is high, with langoustines alive and moving in the kitchen, particularly large specimens of turbot and excellent game, amongst other things. Service is like a Swiss watch, with each waiter knowing their precise duties in this huge operation, so topping up of water, wine and bread is flawless. It is an absurdity that this restaurant does not have a Michelin star, but the customers don't mind, and the dining room gets very booked up, despite its scale. The only downside is the greedy wine list.
The Brilliant has been a regular haunt of mine for over two decades. It cooks authentic Punjabi food, catering mainly for Asian families, so portions are designed with that in mind and are vast. As you watch a Bollywood movie showing on the plasma screens you can tuck into excellent fish pakora or butter chicken. The methi chicken is excellent here, packed with fenugreek flavour, and they even make romali roti here, possibly the only London restaurant to do so. Service is surprisingly slick considering that you are in Southall. The food here seems to me in no way worse than London's flashy Mayfair Indian restaurants, albeit in a more casual setting, but the bill is a fraction the size. £30 a head with drinks gets you enough food for a complete takeaway meal in addition to your dinner here.