Smoking Hot
Saturday, January 14th , 2017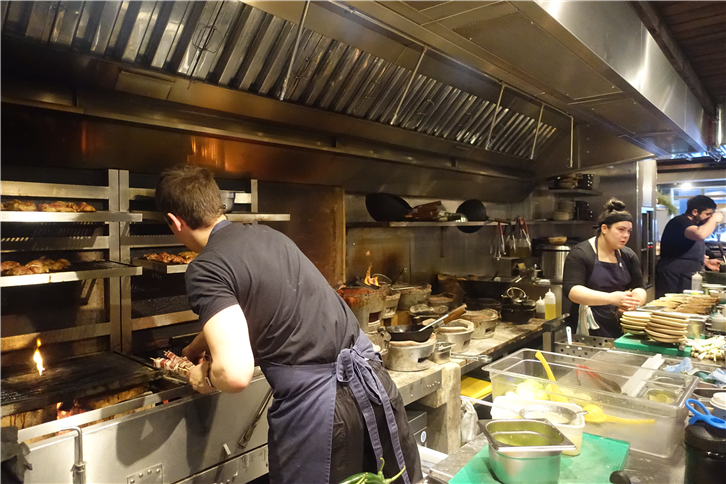 The Holborn Dining Rooms is the flagship restaurant of The Rosewood Hotel in Holborn, the restaurant on the site that used to be Pearl. The room is significantly larger and less formal than in the Pearl days, with red leather banquettes and tightly packed seats. The food was rather erratic at the meal that I tried. Some pleasant starters were followed by lacklustre main courses, but redeemed by excellent desserts. Overall the experience was pleasant enough, but at the far from cheap price point I would have hoped for greater consistency than this.
Kiln (pictured) is the younger sister of a barbecue restaurant called The Smoking Goat in Denmark Street, and opened in late 2016 to considerable fanfare. The theme here is Thai barbecue, and the kitchen does not wimp about with the chillies. A lot of care is taken with the ingredient sourcing, and there is an open kitchen where you can watch the chefs grilling the meat, which might include mangalitsa pork. The dishes that I tried were very good, even the solitary vegetarian option of greens cooked with a spicy soy dressing. Bear in mind that there are no reservations except for tables for four or more, and Kiln is very popular, so choose your time of eating here with care unless you do not mind a lengthy queue.
I returned to The Ledbury, which is arguably London's most reliably good all-round restaurant experience in terms of the overall package of food, service and decor. The meal was excellent, with stand-out dishes being a muntjac dumpling with fruits de moutarde, excellent scallops and an old favourite: brown sugar tart with stem ginger ice cream.
I also had another good meal at l'Amorosa, a regular haunt. Saffron risotto with the last of the season's white truffles was excellent, followed by a good venison ragu pappardelle and a nicely made almond tart. This is a particularly good value restaurant.