Taillevent Comes to London
Saturday, November 21st , 2015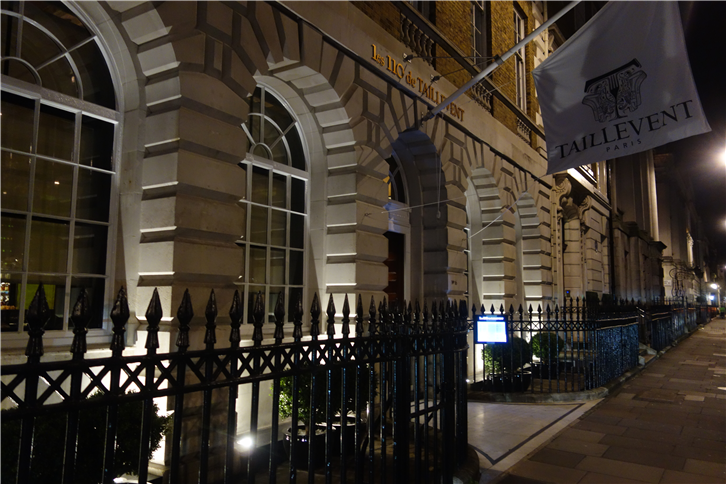 The iconic Taillevent in Paris may no longer have three Michelin stars (for reasons that entirely elude me) but it still one of the finest classical French restaurants. They also have a wine-oriented brasserie called Les 110 de Taillevents, and have now brought this to London in Cavendish Square (pictured). At an early visit the place was already functioning smoothly, the food appealing and carefully made. The highlights were the desserts, made by a pastry chef who had worked at Taillevent. You can drink 110 different wines by the glass, including some very high end ones, and mark-ups are surprisingly reasonable. Service was also silky smooth, as if it had been open years rather than days.
The same could not be said of Foxlow Chiswick, where staff were well meaning but disorganised. More to the point, the food was well below the standard of the original branch in Islington. Salty, overcooked salmon was the worst offender, but even the dishes that were serviceable, such as the fried squid, were very ordinary. I am not sure that this is just a matter of early teething troubles, since I couldn't find a single dish that was better than merely decent. The wine list was the only redeeming feature, with some interesting bottles at tolerable prices. It is entirely possible for restaurant chains to recreate the success of the original branch (for example Hakkasan, Franco Manca) but it is rare and it was not the case here.
Bonhams is my favourite London restaurant opening of 2015. Its young chef continues to improve and develop, as shown at this meal with even better bread than he was making before. The focus on ingredients here was illustrated by a genuinely lovely scallop and excellent sika deer. The sommelier Charlotte is charming, presiding over the best priced wine list in London. The cheaper end of the list is marked up a bit, though still nowhere near usual London levels, but the more expensive wines are generally around their retail price, so if you splash out then you will be rewarded.
I don't review pop-ups on this site but I was very impressed by the cooking at the Darjeeling Express opp-up at the Sun & 13 Cantons pub in Soho. Asma Khan is from Calcutta and I can safely say is the best chef with a PhD in constitutional law cooking in London at present. This is home cooking but in a positive sense, dishes made with real care. The perfectly cooked aged basmati rice is reason enough to go, and highlights included very light onion bhajia, tiger prawns with mustard sauce and lovely carrot halwa. The pop-up runs until March, when I hope that she will find a permanent home for her classy cooking.
The Michelin 2016 guide to Belgium and Luxembourg was due out on 16th November but the announcement was postponed until 14th December due to the tragic events in Parisr. Presumably the Netherlands Michelin will still be announced on 7th December as planned.
This week I did a TV interview about Michelin for Channel NewsAsia, a satellite news channel viewed in 25 Asian countries.
Next week I will cover a brief but interesting visit to New York.