From Suffolk to Macau
Saturday, July 23rd , 2016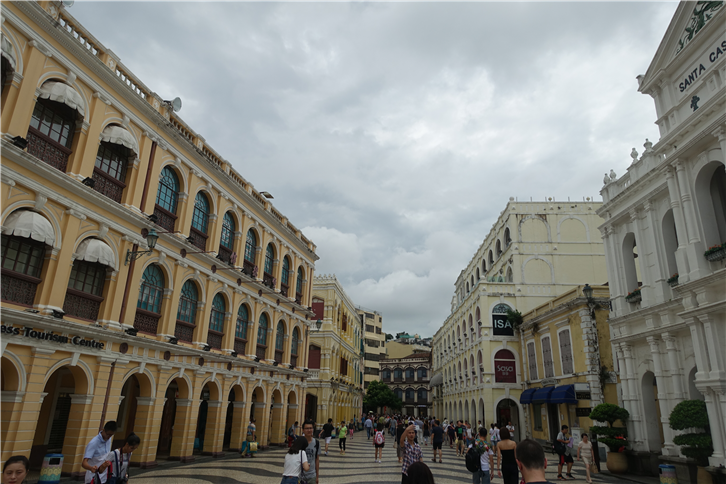 A friend's birthday party took me to Suffolk, and while there I took the opportunity to try a couple of local restaurants. The Unruly Pig is a pub in Woodbridge that has taken the place of another that burned down a couple of years ago. Run by a former high flying City lawyer, the Unruly Pig has cooking that is a bit more ambitious than a typical pub, with an enjoyable pig burger for example. It was relaxed and enjoyable, and the food was mostly of a good standard.
The Great House at Lavenham is a more formal dining room set in an attractive historic building within this picturesque village. This had some enjoyable dishes, such as an odd-sounding guinea fowl with lobster sauce, and carefully made gratin dauphinoise, as well as a good almond and apricot dessert. It is not exactly cheap, but is quite a grand setting and has service to match.
After lunch in Suffolk I flew the same day a bit further afield: to Macau. A former Portuguese colony but since 1999 a special territory of China, Macau was a former trading post but is known for gambling, which has been legal here since 1850. It is essentially the Las Vegas of Asia but bigger, with gambling revenues in 2014 seven times that of Las Vegas, and making up half of the local economy. There are remnants of the colonial days, with a few historic buildings dotted around in a notionally historic part of Macau, though in truth there are really just a few old buildings surrounded by modern ones, so this is not an "old town" of the type you see in Krakow, Tallinn or Prague. It is a one hour ferry trip from Hong Kong (and requires a passport for entry even if you start your journey in Hong Kong).
From a food perspective, the gambling money has attracted some high-end restaurants. Apart from the pair of three star restaurants, The Eight and Robuchon au Dome, the 2016 guide listed four two star restaurants and ten one star places. I had already tried Zi Yat Heen, an on this visit tried the two newest two star venues. Jade Dragon served very capable Cantonese food in a very smart setting. There were plenty of luxury ingredients on the menu, and good technique shown in excellent dim sum as well as a terrific crab hot and sour soup.
Tasting Room is a French restaurant with quite ambitious cooking and attention to detail with regards to sourcing. A star dish was live abalone sliced very thin and acting as the "pasta" in a modern carbonara dish. High quality turbot came with Comte emulsion and was another example of the effort shown here to get hold of top notch produce, whether from France or Japan.
Additionally, Shinji is a sushi restaurant linked to a well known one star sushi restaurant in Tokyo called Kanesaka. All the fish is flown in from Tsukiji market, and even the wooden counter was made from Japanese cypress. The fish quality was unsurprisingly good, and there were small touches such as the use of freshly grated wasabi root. The head sushi chef was friendly and knew his stuff, the rice used being as high quality as the fish.
In other news, Michelin released one of its new guides, in this case to Singapore. At this stage it is unclear whether this will be a regular guide or a "special edition" one-off. There was a solitary three star in the form of Joel Robuchon, six two stars (Andre, Atelier Robuchon, Odette, Shinsen Hanten, Shoukouwa and Les Amis) and 22 one stars. I was rather surprised that Waku Ghin was awarded just one star, and the guide shunned some other generally well-thought of places such as Burnt Ends and Tippling Club.