Good south Indian cooking comes to Hammersmith
Saturday, November 11th , 2006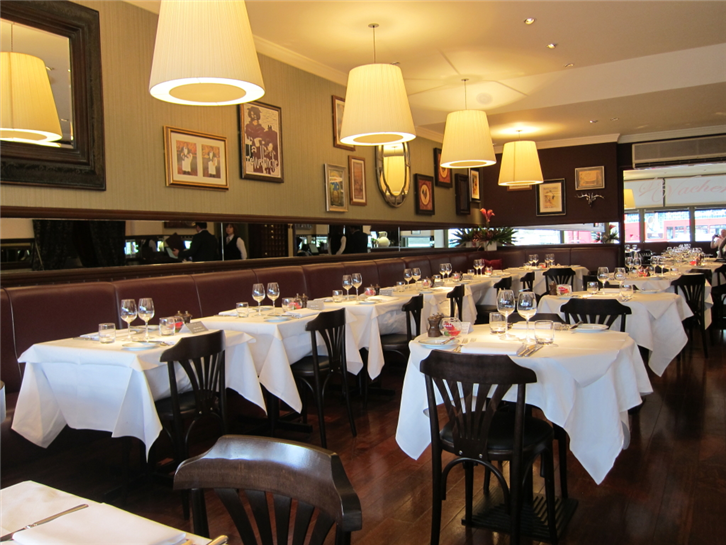 Some real ups and downs this week. I had another solid meal at the under-rated Oottupura in Hammersmith, including tasty Mysore bonda and good dosa. The food is very cheap indeed here, and it is hard to understand why it is not busier; there are a whole series of Indian places along King Street, and none of them are really any good except for Agni and Ooottupura.
I also went back to old favourite Royal China in Queensway, which is nothing if not successful. Whenever I go it is packed to the rafters with both Chinese and western diners, with a long queue at weekends for dim sum, when you cannot book. Old classics like hot and sour soup are a world apart from the gloopy mess that often passes for this dish, while steamed sea bass here is always carefully cooked. The gai lan (Chinese broccoli) is lightly steamed with garlic and is one of the best vegetarian dishes you are ever likely to encounter in any cuisine. While is not quite as classy as Hakkasan, and with décor that looks like a 1980s school disco, Royal China still serves some of the best Chinese food in London.
I also tried a new and a more established place in Chiswick. Carvosso's at 210 has just opened in an attractive refurbished town house on the High Road, with a wine bar and dining room. Sadly the food ranged from supermarket level pasta to simply inedible venison, cooked for far too long and served with stringy cabbage and lukewarm potatoes. The wines were fairly priced so this may serve OK as a place to meet for a drink, but don't be tempted to eat here. I look forward to the inevitable rave review in the local paper, which have never met a restaurant they didn't like (provided they give them a free meal).
I was rather disappointed by Vacherin, which has a 4/10 in the Good Food Guide and which my knowledgeable friend Ari Sofianos likes. I had been here soon after it opened and was underwhelmed, deciding to go back after it had settled down. Certainly the menu is appealing bistro fare with a few eccentric additions, and the wine list, though oddly all French in this day and age, is at least not too bad for mark-ups. I had a nice (if small) piece of fillet of beef, but a crab salad involved hardly any crab at all, while a gratin Dauphinoise was poorly made, using too much cheese and cream so that the potato layer essentially disappeared. Service was also dodgy, with our starters rushed out before any attempt was made at taking a wine order. A waiter knocked over my full glass of Etienne Sauzet Puligny Montrachet into my lap and could only manage a "er, was that water?" by way of "apology". I was even less impressed when they brought along a cheap white wine as a substitute for the wine they had spilt. Sorry, but if chains like TGI Fridays can teach waiters what to do when they make mistakes, then places at this price level certainly have no excuse for not doing so. Overall I found this a 2/10 level place, with prices that were not excessive but hardly cheap.