Scotts opens
Saturday, February 17th , 2007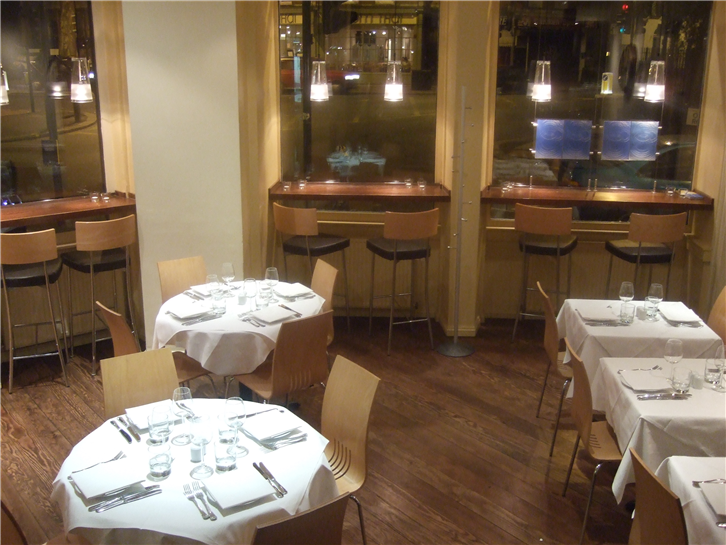 I experienced differing degrees of glamour in the serving of fish this week. The Fish Shop on St John Street is well placed for Sadlers Wells and is a bright, simple restaurant serving up a variety of seafood dishes. I have found that their cooking can be less convincing in more elaborate dishes, but their haddock and chips are excellent. The haddock is very fresh and the batter light and crispy. Tartare sauce is home-made and chips are decent.
At the other end of the scale is the relaunched Scotts, beautifully redecorated in art deco style at presumably great expense. The room is most attractive with a lovely central bar, and would be an excellent place to go for a glamorous drink if in Mayfair. Unfortunately the food itself was rather a let down, with prices that are simply too high to justify the merely adequate cooking. Even in Mayfair there must be some limit to the premium that customers will pay for the surroundings. I did enjoy the chips and Jerusalem artichokes here, but the seafood itself was just pleasant. Now that they actually have their delayed liquor licence and are no longer giving away the wine they were serving (for a brief period around Christmas) it is tough to bring oneself to pay £25 or more for a main course with vegetables at £4.75 each as an extra. Still, it would be a good place to have a Martini shaken and not stirred.
I also paid a visit to Roussillon, whose rather odd location tucked away in a quiet street in Pimlico seems to have caused it to get less attention that its cooking deserves. It has a Michelin star, yet it never seems to be very busy when I come here. Prices are not cheap (three courses for £48), but you are getting serious technique in the kitchen e.g. beautifully timed, sweet scallops and tender lobster with girolles. There can be a tendency to over-complicate e.g. the scallops did not need chicory leaves, a lime dressing with meat jus, slices of blood orange as well as anchovies. However ingredients are very good and technique is hard to fault. They even make their own bread, a rarity in London restaurants these days.