Into the Lyon's Den
Saturday, November 29th , 2014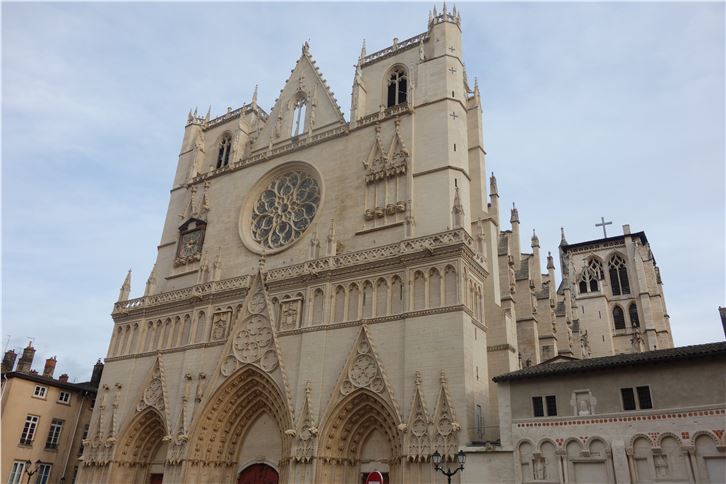 Lyon is often regarded as the culinary heartland of France, and is certainly blessed not just with plenty of Michelin starred restaurants but also with many fine food shops, including several particularly excellent bakeries and the lovely chocolate shop Bernachon. As a city to visit, Lyon is underrated, known more for its chemical and pharmaceutical industry than as a tourism destination. Yet it has a superbly preserved mediaeval old town (a UNESCO world heritage site), extensive Roman remains, two rivers and attractive architecture. For traditional, simple Lyon cuisine you can try Café Comptoir Abel, full of locals eating saucisson and hearty traditional dishes.
At the posher end of the things I tried Les Loges, the 1 star restaurant at the Cours des Loges hotel in the oldest part of Lyon. The food was very capable and the medieval era, candle-lit atrium is an attractive place to eat, though the service was surprisingly sloppy for a restaurant at this level. The hotel, incidentally, is a lovely place to stay, right in the heart of the old town.
Of the 2 star Michelin places, Mere Brazier is an old-school delight, a restaurant with fascinating history that fell into decline some years ago but is now back in safe hands and producing lovely classical food. The Grand Marnier soufflé produced there is a case study in understated perfection.
La Rotonde is tucked away in a casino in the countryside, and has a talented chef. The pate en croute served was stunning, not surprising as this was the dish that won the chef the title of world champion for pie-crust pastry in 2013. The rest of the meal was also very enjoyable, but it was worth going just to try the pate en croute.
Guy Lassausaie was the surprise of the trip, a restaurant that I knew very little about but which produced a genuinely top class meal, from the langoustines in angel hair pasta to the sole with black truffles. The whole meal was impressive: top class ingredients, high technical skill, an appealing menu, good service. There are plenty of worse three star restaurants than this, so its current two stars seems mean to me. This delivered the best meal of the week.
Paul Bocuse is the iconic 3 star restaurant of Lyon, unchanging across the decades. This is not the cutting edge of modern cuisine, but it serves very capable classically cooked food. I had one or two minor quibbles, and objectively it would be pretty hard to justify the third star, but it was a very enjoyable experience.
There are plenty of interesting restaurants in the area that I did not get a chance to visit, such as the previously 2 Michelin star Leon de Lyon that is now serving brasserie food, the 1 star cooking of Takao Takano (previously head chef at the now defunct 2 star Nicolas Le Bec), or to return to other serious restaurants in the area such as La Pyramide. The excellent three stars Pic, Regis et Jacques Marcon and Troisgros are all within reach of Lyon (as is the much less appealing Georges Blanc). I will just have to head back there another time.
The Belgium and Luxembourg 2015 Michelin Guide came out. It was a quiet year at the top, with no change at either the three or two star level. There were 10 new one star places in Belgium, and one in Luxembourg. In total, Belgium now has 3 three star restaurants, 17 two star and 117 one star. Luxembourg has 10 one star establishments.
The 2015 Michelin guide to Switzerland also came out. All quiet at the top, with no change at the two or three star level. There were 18 new one stars and 11 demotions. In total Switzerland now has a pair of 3 star restaurants, 19 two star restaurants and 96 one star restaurants.
At this point the only country guides remaining for 2015 are for Tokyo (early December) and France (late February), plus the Main Cities of Europe guide (covering eastern Europe) and Scandinavia which are due in March. It seems there will also be a guide to Sao Paolo and Rio de Janeiro releasd in 2015. Thus far Michelin has had a very quiet year in Europe, with no new three stars so far at all (their US team has shown characteristic generosity with 3 new three stars there). I have no issue with this - Michelin should promote restaurants when they think they are ready, not because they have a new guide coming out. In the previous two years there have been a high proportion of questionable promotions to three stars, as discussed here, so I am actually pleased to see a period of consoiidation.