Two Iconic restaurants of France
Saturday, June 25th , 2016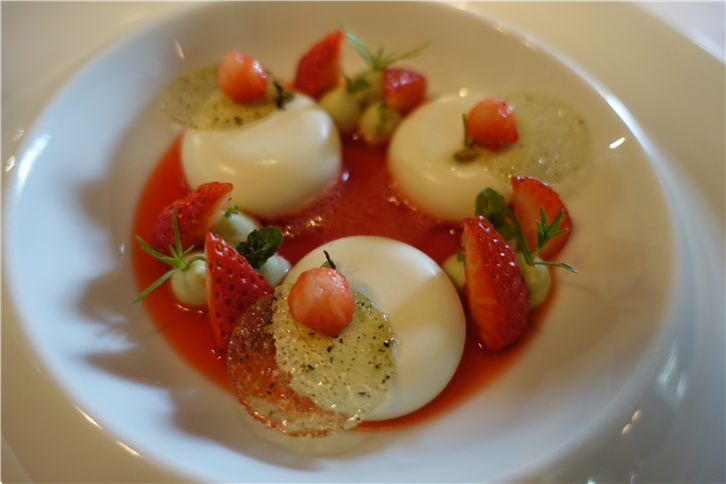 Santa Maria in Ealing, along with the original Franco Manca in Brixton Market, were the first restaurants to really bring authentic Naples style pizza to London. Long-term inhabitants of the capital had for years to put up with chains like Pizza Hut, and later Pizza Express, with their industrial version of pizza. By contrast Santa Maria had a serious pizza over that could cook a pizza in about a minute, one with a soft, supple base and good ingredients. They already opened a sister restaurant called Sacro Cuore and have now expanded to the borders of Fulham and Chelsea. As was to be expected, the pizza was excellent, the meal only let down a little by some tasteless tomatoes on the bruschetta.
Stovell's in Chobham is a very interesting restaurant. Its executive chef is Mexican, and rather than ploughing the obvious furrow of serving conservative British cooking to the conservative denizens of Surrey, Fernando Stovell has incorporated some Mexican flavours in his cuisine. Some of the influences are subtle, and personally I would have liked to have seen slightly bolder spiceing, but dishes such as guinea fowl on a tortilla with mole verde sauce and tomatillos worked really well. There were some consistency issues, but the best dishes were excellent and the service was charming.
I also returned to two of the great icons of French cooking, Troisgros and Pic. Troisgros has held three Michelin stars since 1968, and the fourth generation of the family, Cesar Troisgros, was in charge of the kitchen when I visited. The standard of the cooking is exceptional here, right from the initial cherry tomato, ginger and sesame nibble through to the petit fours. The John Dory with black truffles was an extraordinary dish, as indeed were several others. As a bonus, the extensive wine list has some genuine bargains tucked away in the upper reaches of the Burgundy selection. This was my third visit to Troisgros and I enjoyed this meal just as much as my first.
A restaurant with an even longer history is Pic in Valence. Ann-Sophie Pic has restored the family glory and regained the third Michelin start that it first held in 1934. She is, incidentally, the first female French chef to have had three stars for five decades. The food here is elaborate and intricately put together, based on superb sourcing of ingredients. Despite the history of the restaurant, this is no Paul Bocuse, where the cooking feels as if it is in a time warp. At Pic these days there are Japanese influences tucked away within the menu, but the exotic is always there for a reason, and is never at the expense of pleasure or flavour. The meal was superb, with dishes such as langoustine with Granny Smith apple sauce, and concluding with fabulous desserts. It is also modestly priced if you are used to London prices, never mind Paris, and there is also the odd bargain on the wine list. It was interesting that I went to these two places within days of the St Pellegrino Top 50 restaurant list being announced. Neither Troisgros or Pic feature, and yet both their meals were better, in my view, than any I have eaten at any on the top 50 list (with the possible exceptions of Le Calandre, which languishes at number 39, and Vendome at 35). This was just a coincidence, but it shows how utterly out of touch that this list is with the top restaurants of France. Ah well, that makes it easier for me to get reservations at places like Pic and Troisgros and the many other dazzling places in France (think Pres des Eugenie, Guy Savoy, Pierre Gagnaire, Lameloise, Ambroisie,…) that are ignored by the hipster crowd that slavishly follow the San Pellegrino list.