Washington
Saturday, May 25th , 2019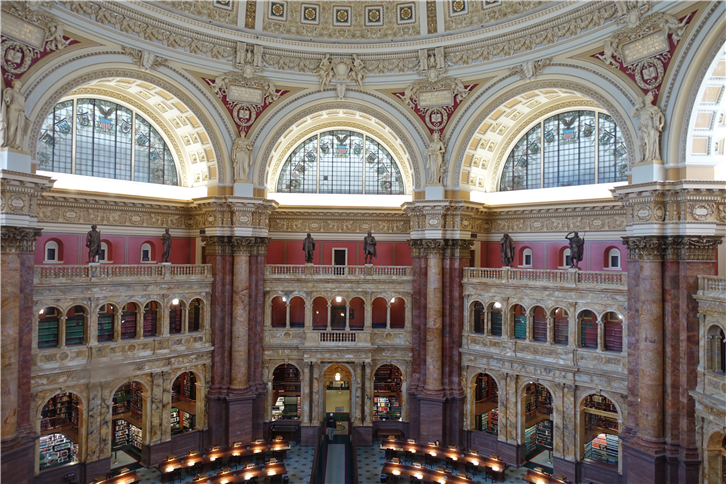 Washington D.C. offers rich sightseeing pickings, from grand political buildings such as The Capitol Building, Supreme Court and White House through to the extensive range of Smithsonian Museums, which all have free entry. The most impressive architecture is arguably that of the Library of Congress (pictured), and then there is The Lincoln Memorial, the quaint streets of Georgetown and even the newly relocated Spy Museum, which traces the history of espionage.
I tried a range of restaurants at all levels. 2 Amys is a pizzeria that seems to be living off some past glories, as it has a perplexingly long queue for a very ordinary product. Slightly better was Il Canale in Georgetown, though Kinship was rather disappointing given the price point. I was pleasantly surprised by sister Indian restaurants Bombay Club and Rasika, which were much better than I was expecting given my dismal history of trying Indian food in the USA.
At the posher end of things, Pineapple and Pearls was better than I expected given its no-choice modern cooking, and for me deserved its two Michelin stars. Similarly minibar exceeded my expectations, serving Spanish molecular food, which is not usually in my sweet spot. The meal started off spectacularly well, and only a string of dud dishes towards the end of the savoury sequence dragged down the score a notch.
The Inn at Little Washington is 70 miles away in a tiny village in Virginia, and is a charming place to stay. It serves enjoyable classical cooking with particularly good service, and offers a range of rooms in exquisitely restored buildings dotted around the village. The staff here were exceptionally good, and although the food was not really 3 star level I still thoroughly enjoyed my two-night stay here.