Molecular gastronomy in Marbella
Saturday, June 27th , 2015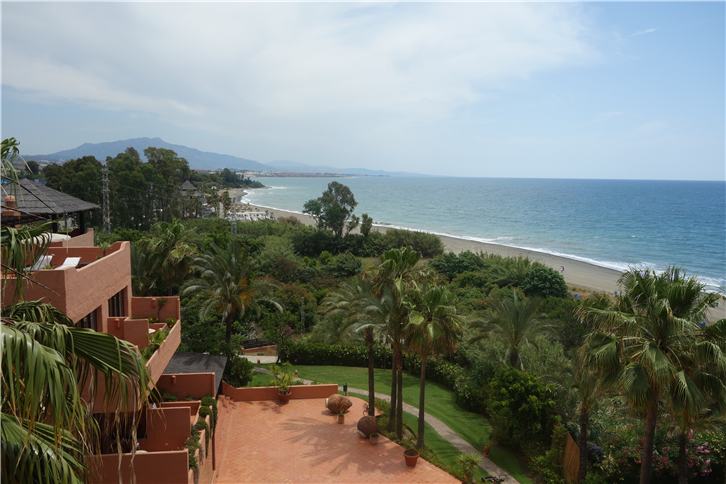 Dani Garcia is a two Michelin star restaurant in Marbella (pictured). The setting is attractive and the service superb, but the cooking was capable it felt to me a touch dated in some ways. Molecular gastronomy tricks seemed fresh and inventive a decade ago, but now? A white garlic soup with crab and truffle was excellent, along with a tropical fruit dessert, but some dishes such as the "gold ingot" of olive oil and butter were just odd.
Social Tapas is the latest outpost of the rapidly expanding Jason Atherton empire. I have previously found Mr Atherton's restaurants able to maintain a quite high standard of cooking, despite the sheer spread of new ventures. Here, although admittedly the emphasis is supposedly as much on the wine as the food, things have gone somewhat awry. There was a nice raw scallop dish, but also a couple of disappointments, which given the chunky pricing is all the less tolerable. The wine list, though featuring good growers, is aggressively priced even by the challenging standards of central London.
I notched up my 59th meal at Hedone, which continues to produce some of the best food in London from without doubt the highest quality ingredients used in a London kitchen. At this meal white asparagus from the Luberon was superb, as was chicken from Landes. The more technical side of the cooking here is illustrated by the stunning liquid Parmesan ravioli and the chocolate mousse with raspberry powder. As ever, the bread here is almost reason enough to visit.
At a lower price point you can eat food reminiscent of the style of Hedone at Bonhams, where the kitchen is run by a former Hedone chef. Here is the same care about sourcing, the simplicity of cooking, and even excellent sourdough bread. Bonhams also benefits from a great value wine list, with some of the costlier wines at roughly their retail price. Open only at lunch, Bonhams is a hidden gem that deserves your attention.