To Taiwan via Soho
Saturday, July 11th , 2015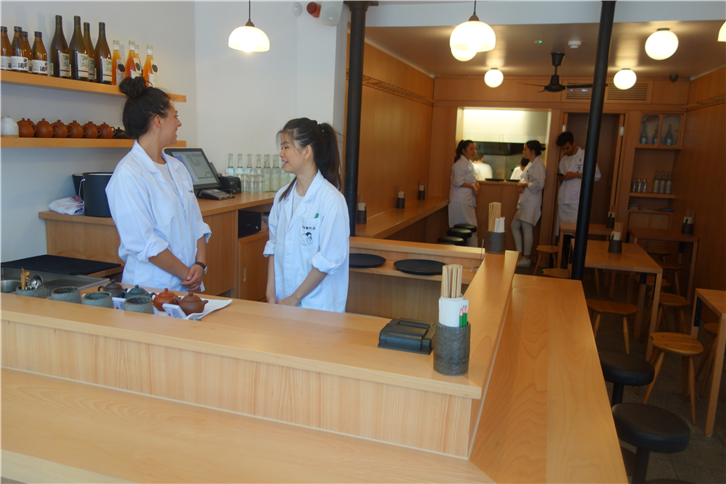 Bao (pictured) s a wildly successful little Soho joint serving Taiwanese steamed buns. The queue outside is legendary and there are no reservations, so you need a fair bit of spare time in order to actually eat here: the thirty seat place does about 150 covers at dinner and only a few less than that at lunch, to give you some idea of the likely wait. The buns were lovely, ultra-light and filled with confit pork (there are some other choices). My tip is to largely stick to the buns, as we tried most of the menu between a group of four, and the starters are much more variable in quality than the buns themselves.
Bonhams is still my pick as the best London restaurant opening of 2015, although it has finally made it to the attention of the national newspaper reviews, so getting a table is harder than it used to be. The cooking is based on top notch ingredients, and the star dish was courgette flower stuffed with crab and tomato, a lovely summery dish. To complement the food is a very impressive and (wait for it) kindly priced wine list, an endangered species in central London.
The Royal Oak has managed its recent head chef transition well, sensibly keeping to the successful formula of appealing British food. An asparagus dish was particularly impressive on this visit, and while their popular pie has changed from rabbit to guinea fowl it is just as enjoyable. The service here is excellent and the welcome genuine, so if you ever need a break from the frenetic food scene of London with its constant experimentation, this is a fine place to go.
Caphe Guests is a pleasant Vietnamese restaurant in Chiswick. It is a local place rather than anywhere trying to become a culinary landmark, but its best dishes are enjoyable, such as a Vietnamese prawn salad and nicely made stir-fried vegetables. Not everything is to the same level, but prices are modest and it deserves more customers than it had when we visited.
I had my 60th meal at Hedone, which continues to deliver top-notch food of a standard at least one Michelin star higher than its current rating. Stand-out dishes included a gorgeous crab and avocado starter, the signature liquid Parmesan ravioli and dazzling sea bass.
I was sorry to hear about the premature passing of Philippe Rochat, one of the trio of chefs that held three stars at the superb Hotel de Ville.