Anima revisited
Saturday, December 26th , 2009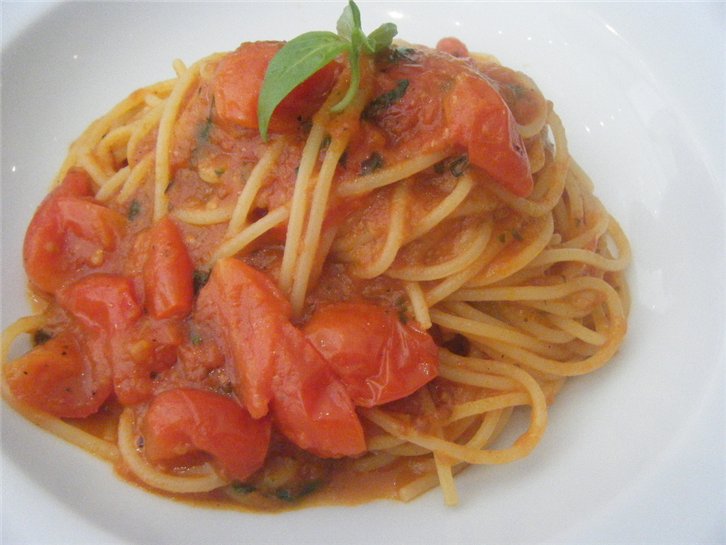 It is over a year since I first had lunch at l'Anima (a dish from there is pictured), a smart Italian restaurant in the City. I began with a fettucine of wild mushrooms with black truffles, which has high quality pasta and carefully cooked wild mushrooms. The best course was a simple grilled poussin, which had taken on a hint of charcoal from the grill, and was moist, served just with a pair of chillies. Dessert of lemon cream with raspberry sorbet had good texture, with the fruit balancing the richness of the cream well.
Royal China is one of the most consistent kitchens in London, a bustling machine of a restaurant that managed to redefine the level of expectation for Chinese cooking in the capital. Despite a much expanded dining room, It is always busy, with a lengthy queue for its dim sum lunch. Steamed sea bass is always cooked very carefully, and was particularly good this week, with timing of the fish that would shame many a fancy French restaurant. Similarly gai lan (Chinese broccoli) is steamed with garlic, the texture just about perfect; this is a standard dish on Chinese restaurant menus, but I have never had a better version than the one here.
It is a struggle to find good Thai food in London these days; the best place seems to be Patara in Greek Street, but this week I went back to their branch in South Kensington. As before, while the menu is similar and the standard of service is similarly high to the flagship Greek Street branch, the cooking at the Fulham Road branch has some inconsistency. A starter of scallops in a spicy dressing was prettily presented and enjoyable, but the scallops were not hot by the time they were delivered to the table. A prawn curry was excellent, but pad thai noodles had overcooked prawns. The cooking here is still better than most Thai places, but it seems best to stick to the Greek Street branch.
Haandi is an old favourite, offering particularly good vegetable curries. So often in Indian restaurants the vegetables are overcooked, reduced to a mush disguised by a spicy sauce, but here the spices are still here but the vegetables retain their texture properly. Tandoori cooking is skilled, as evidenced by a generous portion of tender spicy chicken tikka. Excellent paratha shows another angle to the kitchen, the bread supple, grease-free yet not dry. Service is never a strong point of Haandi; it fluctuates depending on whether the owner is in the restaurant. If not, as tonight, then the staff relax, and indeed the waiter in charge could be seen relaxing at an empty table for much of the evening, which does not leave a very good impression. Fortunately the chefs show more discipline, and the cooking was as good as ever.
This Christmas we were cooking at home, so I have had the fun of food shopping over the last couple of days before Christmas. Otherwise normal people descend on the shops as in a scene from a disaster movie, where they have just moments to lay their hands on a few provisions before heading for the hills. At least in London, the shops close for a grand total of, er, one day (and if things are really tough, a few shops in London even open for part of Christmas day), so the glint of desperation in the eyes of some shoppers does seem rather hard to understand. Starvation is unlikely to ensue in this 24 hour period – just how bare is anyone's food cupboard and fridge that they couldn't last one day? Anyway, suitably stocked up, we enjoyed some home cooked food and good wine.
It is always to see where other widely travelled foodie types and chefs like to eat, even if I find the choices surprising at times. Such a list has just been posted on Steve Plotnicki's Opinionated About Dining blog. It has a slight US emphasis amongst the respondents, but is none the less interesting for that. It is quite diverse. Out of 75 people asked, the only restaurants that appear to feature more that once for "top dining experience" were El Poblet in Spain, Christian Bau (Schloss Berg) in Germany, Noma in Denmark, Ubuntu in California, El Bulli in Spain, Le Bernardin in New York, Alinea in Chicago, Per Se in New York, Corton in New York and l'Astrance in Paris, quite a mixed bunch.
I hope you all had a great Christmas, and would like to wish you a happy 2010.