A Mixed Week in London
Saturday, April 02nd , 2016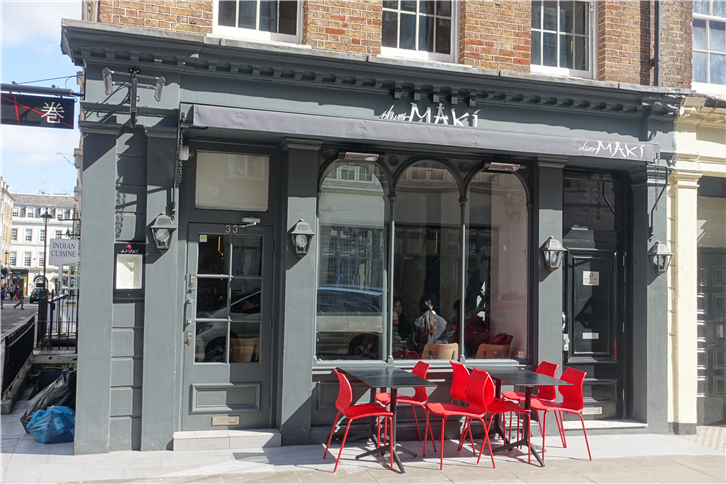 Oliver Maki is a Japanese restaurant that has just opened in Soho. It is the first UK outlet of a group based in Kuwait and Bahrain, and is firmly in the Nobu/Zuma wannabe camp rather than serving traditional sushi. Consequently you can expect things to be pimped up with foie gras and chilli or served in shot glasses rather than the traditional, spare presentation to be found in places like Sushi Tetsu. Although some purists will revile this kind of thing of the start, I have no issue with it in principle provided that it is done well; places like Zuma and Roka are very enjoyable places to eat. Sadly Oliver Maki fails this basic test. There is some decent sourcing, so the tuna was pleasant and the wagyu beef served is both from Japan and a high-grade cut at that. However there were some real clangers, such as a rock shrimp tempura with tennis-ball texture. The enthusiastically worded menu moved into surreal territory when it described a plate of very ordinary stir-fried vegetables as "no noodle udon" i.e. "noodles without noodles" and plonked a £17 price tag on the dish as reward for such creativity. Service was fine but the pricing is bonkers for the quality being delivered in what is actually a fairly restrained Soho dining room, so you do not even have the bling factor that comes with somewhere like Zuma.
My third meal at Les 110 de Taillevent was a touch less impressive than my first two outings here, though it was certainly pleasant enough. I think this was mostly due to me ordering from some of the more obscure parts of the menu, and stumbling on a rather ordinary chicken dish that admittedly had an excellent sauce. The usual strong suit of the meal here, the dessert stage, this time offered up a less than dazzling soufflé, which is a pity since on my previous visits the pastry section has been really on song. The impressive selection of wines by the glass is still a draw here, with relatively modest mark-ups, especially at the high end of the list. There are, if you look carefully by the bottle, some quite rare wines here, a few actually below their current market price, though you should not expect such generosity at the lower end of the list.
Hakkasan Mayfair is a place that impresses me with its ability to turn out consistently good food despite its vast scale. Its service also never seems to skip a beat whichever waiter or waitress you happen to get; they always seem to be friendly, efficient and assured whether at lunch or dinner, early or late in the service. At this latest visit I enjoyed some particularly good salt and pepper squid, and an old favourite dish: langoustines with vermicelli and a touch of chilli. Hakkasan could never be accused of being a bargain, but the cooking is highly competent and I find the overall experience is always enjoyable.