Winter in Venice
Saturday, December 28th , 2013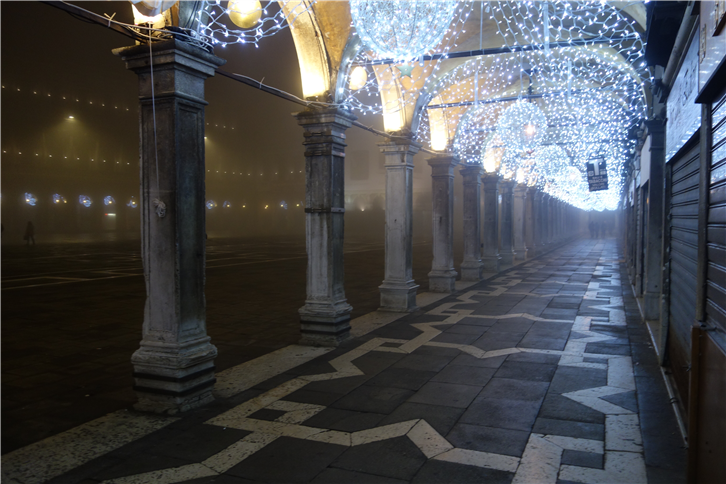 In 2012 I ate at thirty six three star Michelin restaurants, of which my favourite meal of all was at Le Calandre; it was therefore lovely to return there just before Christmas. Last time I tried the tasting menu of classical dishes, so for a change this time I went for a menu of modern dishes. The same focus on top quality ingredients comes through, with superb Sicilian tomatoes, lovely sweet langoustines and excellent Fassone beef featuring. The wine list here is modestly marked-up and service is superb. Although I slightly preferred the classical dishes, this is very much a matter of personal taste, and the kitchen has an impressive grasp of both modern and classical cooking. Massimiliano Alajmo was the youngest 3 star Michelin chef ever, which he gained in 2002 at the tender age of 28.
It is not too far to travel from Rubano to Venice, and the Alajmo family in 2011 took over an historic café in St Marks Square (pictured) called Quadri. The dining room here overlooks the famous square, the food focusing on the local produce from the Venice lagoon. Wild duck risotto was a particularly good dish, but the desserts were even better, with superb zabaglione and remarkably light panettone. Quadri itself gained a well-deserved Michelin star in 2012. Venice in the winter is a magical place, wreathed in mist and refreshingly devoid of tourists.
Back in London, Foxlow in Clerkenwell is the latest venture from the founders of Hawksmoor, in this case a more neighbourhood restaurant format than pure steakhouse, but one which will doubtless be rolled out to multiple sites. It was very pleasant, with some nice savoury dishes and a good steak, though desserts were of a lower standard.
I also went back to two Michelin-starred London restaurants. Launceston Place is a particularly charming little restaurant, with its dining room stretched out across what were originally a string of Kensington townhouses. I had a very enjoyable meal there, the classical cooking very capable and the dishes nicely balanced. Leveret (young hare) with pickled cabbage, bacon and potato cream was an unusual and interesting dish. Service was also excellent.
I notched up my 41st visit to Hedone, and had my best meal yet there. The decision to move to an entirely tasting menu format (except for a cheap lunch option) has allowed them to refine and improve the tasting menu dishes. Old favourites such as the umami flan have been tweaked a little, and there were new dishes such as crab that is cooked to order and served warm, with avocado. Ravioli of liquid Parmesan was as superb as it has always been. The best dish of all was an extraordinarily good suckling pig dish, the pig from the French side of the Pyrenees, the flavour remarkable. Further tweaks to the menu will apparently take place in January. The cooking at Hedone just gets better and better. If you have not been, or tried it soon after it opened, then give it a go. The very experienced diner that I ate with, who had eaten here before but not for nearly a year, pronounced himself "speechless" at the level of improvement of the dishes.
A very happy new year to everyone.