From Kew to Islington
Saturday, December 14th , 2013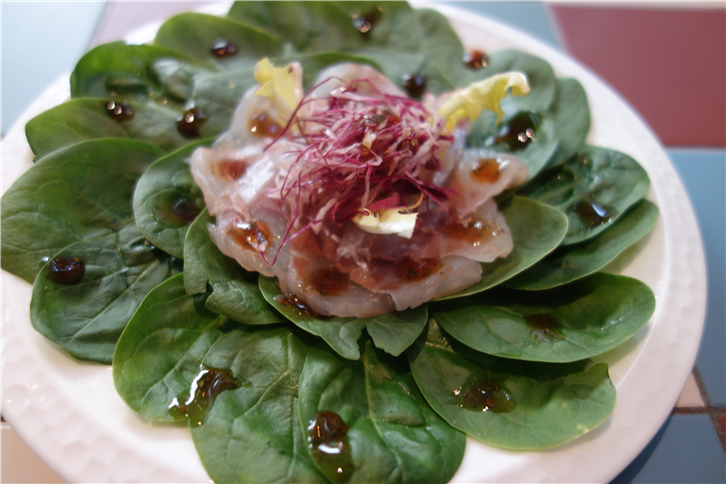 Smokehouse in Islington has Neil Rankin at the stoves; he is a man who knows how to cook a piece of meat, as demonstrated when he was head chef of Pitt Cue. Not surprisingly, the meat dishes were the best ones here, including a fried brisket garnished with a spicy condiment, and Korean pulled pork. This is not a place to take your vegetarian friends, but for carnivores it works well, provided they have sharp eyesight – the lighting redefines the term murky.
Dalcha in Parsons Green intrigued me because its chef is from Hyderabad, and I was curious to see whether its food could conjure up at least a hint of that Indian city, where earlier this year I had eaten some superb food at Adaa. There were some pretty ordinary dishes, though the key test, the biryani, was reasonable. However it was really just a decent neighbourhood restaurant, rather than anything special.
Yashin Ocean House is the latest restaurant to occupy a distinctive property on the Old Brompton Road, which a few years ago housed the ill-fated Ambassade de l'Ile. They have done a much better job with the décor now, and the menu features some dry-aged fish dishes, and authentic touches like proper wasabi root. I tried a few dishes here and was impressed by not just the fish dishes such as smoked sea bass (pictured), but by a remarkably accomplished chocolate dessert. This is well worth trying if you want to sample Japanese food that is a lot better than the London norm.
Linnea is a new restaurant in Kew Green with a Swedish chef cooking mostly familiar British dishes, but with odd Scandinavian touch such as beef gravadlax. The restaurant felt quite cosy and although the service needs a lot of work based on our early visit, the food was very competent.
Also in Islington, Naamyaa is the prototype restaurant in what will undoubtedly be a chain of moderately priced Thai restaurants, founded as it is by the wildly successful Alan Yau (who established Wagamama, Hakkasan and Busaba Eathai, amongst others). This was my second visit there, and like the first it was a rather hit and miss affair. There were some genuinely good dishes, but also some clunkers. The dining room is very nicely done, and given the low price point and extensive menu it will doubtless do, but they need to work on consistency.
I returned to The Square, Phil Howard's two Michelin star Mayfair establishment. Old favourites like the langoustine tail with Parmesan gnocchi were excellent, as was the cheesecake, though a beetroot salad was less impressive. Service was very good indeed, though the bill matched the Mayfair setting. This was the first time I have eaten here since the move of long-term head chef Rob Weston to La Trompette, and the meal felt a fraction less consistently assured than I recall from some previous meals here. Nonetheless, this is a very well-run operation, serving enjoyable and quite classical food, with much-improved service in recent times.
In other news, my restaurant reviews have been licensed by Google as part of their Field trip mobile app, which pops up suggestions and information as you travel around a city. The app is free and available on all both iOS and Android, and was designed specifically for Google Glass.