Café Strudel - Austrian food in Sheen
Saturday, November 29th , 2008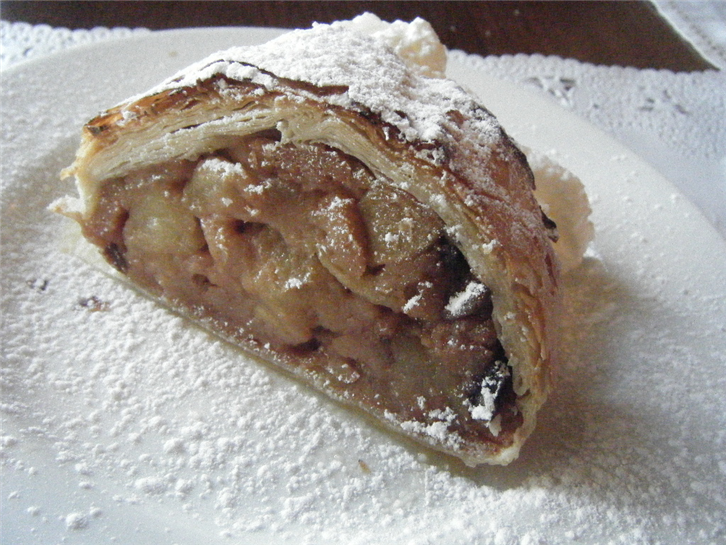 Café Strudel
(see photo for its apple strudel) opened in March 2008 and has brought Austrian food to the unlikely location of Mortlake. The atmosphere is charming, with suitably old fashioned décor featuring traditional globe lamps, and even a table of newspapers and recipe books to browse while waiting. For some reason I tend to think of Austrian food as quite traditional and have vague romantic recollections of Viennese cafes. All this place needed was a little old lady in a green jacket and felt hat and it would have felt just like Vienna. The food is fairly priced, and there is an excellent, mostly Austrian, wine list. After all that I found the food pleasant but rather tentative in terms of seasoning where my recollection of Austrian food is robust and full flavoured. For example an otherwise good gulasch lacked paprika. A chicken schnitzel is anything but traditional but worked well, but spaetzle also lacked seasoning. Perfectly pleasant overall, but the cooking did not quite live up to my hopes raised by the authentic atmosphere.
I have always been rather fond of
The Ragam
, a restaurant that has stood the test of time, serving Keralan food in a backstreet near what was the Middlesex Hospital. I used to go fairly often though after one lacklustre meal fell out of the habit, but I wanted to give it another try. The room has had some minor updating but the south Indian specials are still the best thing to order, in particular uttapham (an Indian version of pizza) which was pretty good here, and I am pleased to say still is. The more conventional high street curries are much less impressive, but if you stick to the Keralan food you will eat pretty well at a very fair price.
I am lucky in having a Michelin starred restaurant within a two minute walk of my house.
La Trompette
has been a regular favourite for years and seems to sail on pretty serenely, even though there have been a number of staff changes, including chefs, over the years. This week saw another generally solid performance, with a refreshing dish of seared tuna with an excellent dressing of coriander soy and sesame, paired with a prawn beignet, which seemed a little superfluous to me but tasted fine. Also good was a rich chocolate marquise made with Valrhona chocolate. Lunch here is fairly priced at £23.50 for three courses.
A return visit to
The Abingdon
saw another generally solid cooking performance except for a poorly executed scallop dish. However my experience was rather spoilt by an irritating experience when I ordered a glass of dessert wine. By default a "glass" of wine is 125 ml, and in the UK you either get this or sometimes a smaller glass, say 100 ml. I don't mind this if it is clearly marked with the measure size on the menu, as you can then do a swift calculation to see whether the price is fair or otherwise. Here there was a "glass" description and price, so I assumed 125 ml and worked out this was a pretty good price. It would indeed have been except that a 50 ml measure appeared. This seems to me sharp practice, and my mood was not brightened when the excuse I was offered by the manager was that he "could not drink a whole glass of dessert wine". Well, maybe so, but I most certainly can, and think that measures should be clearly be marked on menus if they are different from the norm, to avoid any misunderstanding. The incident was not well handled, in my view, rather spoilt the evening and put me off returning. Keeping customers happy is a skill which even currently successful places like this are going to have to re-learn if they are to prosper in the forthcoming straitened economic climate.
Tarantella
delivered another reliable local meal. The pizza base is very good here, and the Italian family that run the place here are genuinely welcoming in a way that the Abingdon can only dream of. Pasta dishes are also pleasant, as this week with a classic spaghetti with tomato and basil.
The Michelin Guide to Belgium came out this week. No major news at the top, with the two existing three star places, Hof van Cleve and de Karmeliet, retaining their 3 stars, and no promotions at this level. Belgium has ten restaurants with two stars as follows:
L'Air du Temps (new)
Bruneau
Clos St.Denis
Comme chez Soi
Danny Horseele (new)
Hostellerie Le Fox
Hostellerie St-Nicolas
Pastorale
Sea Grill
't Zilte
and there were six new one star places and one demotion (Le Pain et le Vin), bringing the total to 81 places with one star. There was little change in Luxembourg, with two 2 star places and nine one star places (with one demotion at the one star level).
In the Netherlands there is also no change at the top, with De Librije and Oud Sluis both retaining their three stars. There are now 13 places with two stars and 68 one stars, with 12 new one star places and three demotions. Promoted to two stars were Browerskolkje and Da Vinci, while ParkHeuvel in Rotterdam begins its climb back up the ladder with it regaining its second star.
This leaves just three Michelin Guides to come out: the new Hong Kong Guide in December, the UK Guide in January and the France guide, which traditionally appears last at the end of February. It will certainly be intriguing to see what Michelin make of Hong Kong. So far this has been a fairly quiet year for 3 stars, with just three new ones (Aqua in Germany, Ishikawa in Tokyo and Masa in New York) added to the tally.