A Foodies visit to San Sebastian
Saturday, October 04th , 2014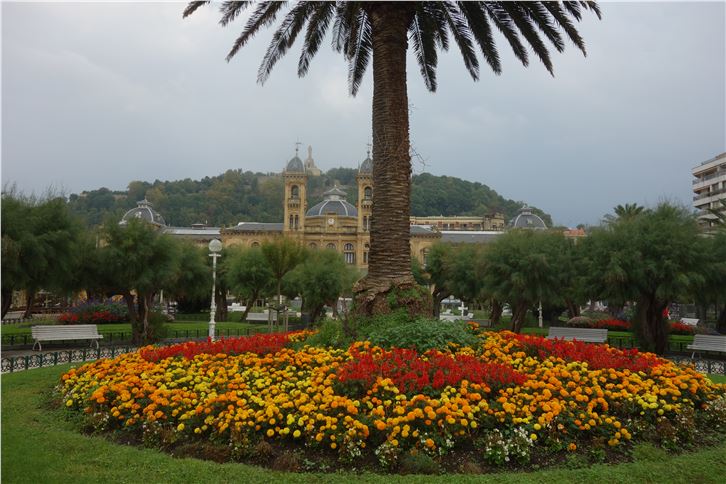 San Sebastian is a delightful place, and not just because of its elegant architecture and attractive beaches. It is the food heart of Spain, with terrific quality available throughout the spectrum; from the ingredients at the local market, through the pintxos bars up to Michelin starred restaurants. There is a strong culture of local dining clubs that supports good local restaurants and encourages quality. As a bonus, restaurants in the area seem only distantly aware of the idea of marking up wine from what they bought it for. These days in London you count yourself lucky if you find a decent wine in a restaurant for three times its retail price – in San Sebastian the wines are frequently below their current market price, having been bought years ago and only modestly marked up by the owners. I recently saw the superb Vega Sicilia Alion on a London restaurant list for £145 bottle, but was drinking it in San Sebastian restaurants for as little as €45 (£35) which is not bad considering its retail price in London is at least £51. I was in town partly for the San Sebastian Film Festival premier screening of the film documentary Foodies, and partly to enjoy the local food.
When I was last there I enjoyed Elkano, so was keen to try its older sister restaurant Kaia Kaipe, located in the same little port of Getaria. Both restaurants specialise in whole turbot grilled in the open air over charcoal. Kaia Kaipe has a bonus a sea view, and a wine cellar with 40,000 bottles. It has extensive holding tanks in the basement to keep shellfish and fish as fresh as possible before preparation. Whilst Elkano's cooking felt a tad more consistent, the turbot was magnificent at both and the prices very fair indeed.
Etxebarri is up in the hills not far from Bilbao, and has a global reputation for its grilled food. Its obsessive chef grills just about everything served over different types of wood using adjustable grills that he designed. He uses impeccable ingredients, many from the local area, and serves them simply, with little in the way of garnishes or sauces. Such a pure approach leaves the kitchen with nowhere to hide, but when it comes off it is dazzling, such as with terrific seared tuna and lovely red prawns.
Ibai is in the same vein, an eccentric place open only for weekday lunches, and with a notoriously tricky approach to booking reservations (no English is spoken, and the booking policy appears to be a mystery wrapped in an enigma). Getting a table here is much trickier than at the thee star restaurants in the city. Star dishes were stunning Dover sole, superb mushrooms and gorgeous lobster. Given the bargain wines, the bill here seems almost absurdly low, once you can actually get in.
At the other end of the culinary complexity spectrum I returned to Azurmendi, near Bilbao. Perched on a hillside in a modern glass building, Eneto Atxa also uses very local ingredients, but his cooking style is as modern as it gets, with every kitchen gadget and technique brought to bear. As regular readers are aware, I rarely like such modernist food as much as classical cooking, partly because so many chefs get carried away and construct dishes that seem to be as much for shock value as diner pleasure. At Azurmendi they remember that the food needs to actually taste good too, so their dishes have balance and logical flavour combinations, even if some of them are unfamiliar. For me it is one of the top modernist restaurants anywhere in the world, and thoroughly deserves its third Michelin star.
The 2015 New York Micheln Guide came out. Daniel was demoted to two stars, reducing the total in the city to six. There were two star promotions for Acquavit, Blanca and Ichimura, taking the total of two stars in the city to nine. There are also 58 one-star restaurants, including 17 new entries. There were no demotions at the two star level. Emma Bengtsson of Acquavit is the second female chef to hold two stars in the USA, the other being Dominique Crenn of Atelier Crenn.