From fish and chips to fine dining
Saturday, September 17th , 2011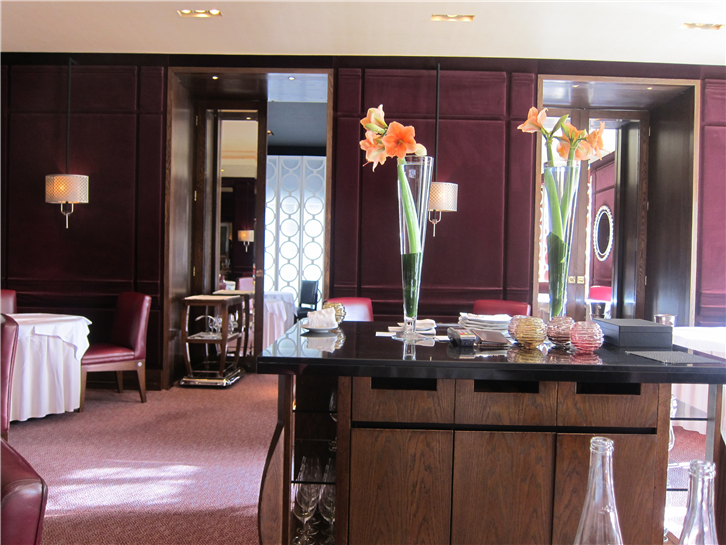 The Riding House Café is sister to a couple of Bermondsey eateries (the Garrison and Village East) and offers all day dining with the trendy "small plate" format. The British cooking that we experienced was capable enough, though as often with such places the bill ends up being more than I initially imagined it would be (all those little plates and side dishes add up; even the bread is charged as an extra). It did have excellent service and was clearly very successful, with tables being turned around us.
Mandarin Kitchen is another place that knows about turning tables. We went during the Chinese mid-autumn festival, a harvest festival where moon cakes (lotus seed pastries) are traditionally served. The restaurant had numerous red paper lanterns hanging in the room as part of this festival. Despite a reservation we had a bit of a wait for our table, though the meet and greet person was very nice about it. Seafood is the speciality here, and fried prawns with chill were carefully cooked, though it was odd that a seafood restaurant managed to butcher the filleting of a sea bass. I slightly prefer Royal China in terms of food quality, but service at Mandarin Kitchen was noticeably warmer (admittedly, this is not exactly difficult). Incidentally, Royal China in Queensway is currently undergoing a long overdue refurbishment, the restaurant due to re-open in November.

I revisited Marcus Wareing at the Berkeley, and had a lengthy tasting menu (which is now £120 a head compared to £90 just two years ago). The best dishes were very good indeed, such as precisely cooked sea bass, and quail with peas (pictured). Desserts were also on form at this meal. There were a few relative misses amongst the hits though, and although technique was hard to fault, I do find a tendency to over-complicate dishes here. However this is undeniably accomplished cooking.

Kerbisher and Malt is a new fish and chip shop in Brook Green. It is remarkably hard to find even decent fish and chips in London, and after a string of places serving soggy chips and fish of debatable origin hiding in a thick slab of greasy batter I had almost given up (honourable exceptions are the excellent Two Brothers and Toffs, which happen to be a long way from where I live). Kerbisher and Malt, with a chef who has cooked at some good London restaurants, managed an entirely capable version of haddock and chips, let down only by some ordinary mushy peas and tartare sauce on the side.

Apsleys produced another excellent meal this week, the cooking continuing to improve at each successive meal I eat here. I particularly enjoyed superb langoustines with fennel and grapefruit, while a risotto of scallops and peas flavoured with saffron was also very good. This is a restaurant that had some very ill-informed negative press when it opened, but persevered and was rewarded with a deserved Michelin star. The cooking has developed steadily and this seems to me firmly in two star territory now.