Some old favourites, including The Ledbury
Saturday, May 26th , 2012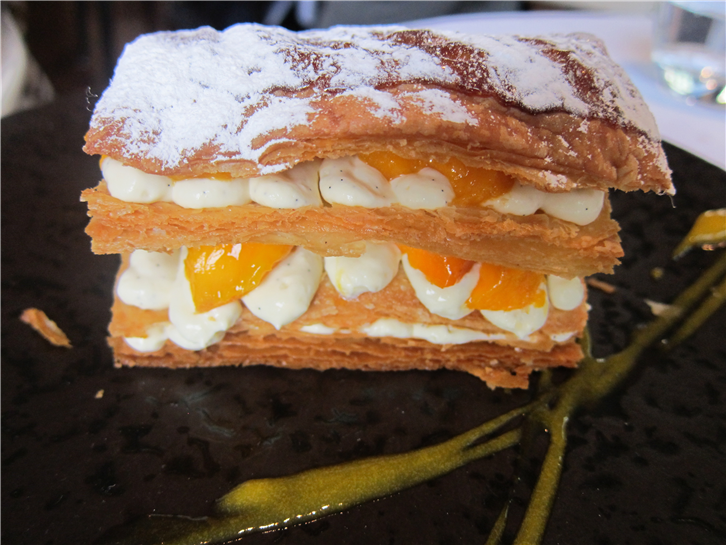 Quaglino was the grande dame of the 1990s London dining scene. A spectacular cavernous dining room was the setting for Terence Conran's flagship restaurant, which had a considerable impact in 1993. Today it is a little battered around the edges, but the room is still impressive. The food was never more than pleasant, and its new chef is doing a pretty good job of keeping up a reasonable standard of cooking despite the huge scale of this operation; service was also very slick this week, though when the bill arrives it is evident that you are paying a significant premium for the room. Nineteen years on though, the 400 seat room was full. By coincidence, this week the part owner, D&D restaurants, put Quaglino up for sale alongside all its 30 restaurants, presumably with the backing of Conran, who still owns 51% of the company; the sale is expected to raise at least £70 million.

Tangawizi is one of my favourite Indian restaurants. The tandoori cooking in particular is very skilful indeed, with superbly tender tandoori prawns this week just one example of this. The tandoor chef actually worked at the well-known Bhukara in India, and out in the kitchen they have a charcoal tandoor, which gives an authentic smoky note to the dishes produced in it (most Indian restaurants in the UK use gas-fired tandoors). The naan bread here is spectacularly good, wonderfully soft and supple; I have rarely eaten naan bread of this quality in India, let alone London.

Medlar was packed out on a Tuesday night, reflecting its carefully crafted appeal: attractive menu, good cooking, fair prices, top quality service. Duck egg tart is a very enjoyable dish, and seasonal asparagus was excellent, while even the simple passion fruit ice cream for dessert was of unusually high quality. You would be hard pressed to find better service anywhere in London, with our ex-Harwood Arms waitress outstanding.

The Ledbury is on top form at present. A lengthy tasting menu showed off its cooking virtuosity, with for example a lovely slow-cooked pork jowl dish and excellent pigeon. Mango millefeuille (pictured) was also delicious. Brett Graham's cooking continues to develop, and he has a particularly good feel for meat cookery. It was interesting to see real wasabi (with the blade of beef dish) in a UK dining room too, apparently grown in England. I hope that other chefs start to pick up on this new development – real wasabi root, freshly grated, bears no resemblance to the coloured horseradish in tubes that passes itself off as wasabi in restaurants across the UK. The Ledbury is cooking as well as pretty much anywhere in London right now.

The Roebuck is my local, and the food there is quite capable, though this is very much a local pub and not a destination restaurant. Little touches, like flavouring the coleslaw with a little cumin (which I thought worked well) suggest a kitchen that cares. They make a nice burger,and there is an attractive pub garden at the back, ideal for the summer that has finally arrived in London.