Balthazar comes to London
Saturday, April 06th , 2013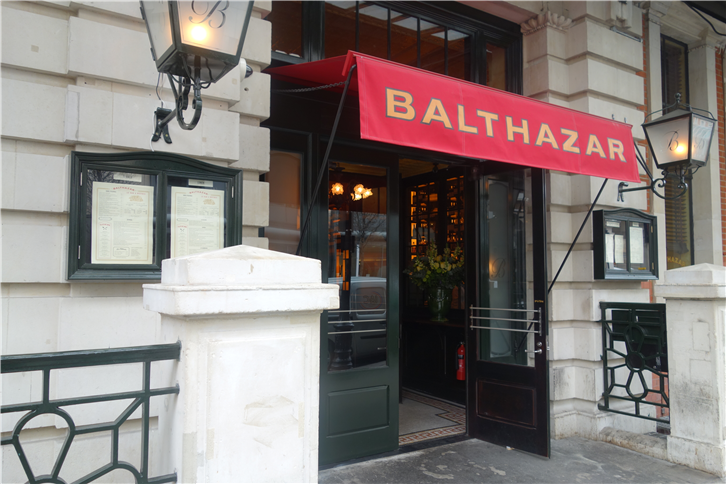 Balthazar (pictured) was an almost absurdly high profile opening, the sister of uber-fashionable Balthazar in New York. This much-delayed restaurant opened to a cunning and effective media campaign, deliberately keeping peak-time tables off limits even from day one in order to give the impression of instant success. The media frenzy seems to have induced some peculiar reviews from the print critics, who either have been praising Balthazar as the second coming or, alternatively, dismissing it in apocalyptic terms. It deserves neither extreme based on my meal there. It is just a nice brasserie with unusually well-trained staff and good bread, the dishes generally pleasant but no more than that, its pricing quite fair.
Il Ristorante is in the basement of the Bulgari hotel, opening last year with little media attention. Many restaurants in such a setting have "hotel dining room" syndrome, lazy affairs aimed at a captive audience, but it would be unfair to tar Il Ristorante with this brush. The chef has a serious background, the room is really pretty despite its basement location, and the waiting staff were excellent. This was my second meal here, and although it was a fraction less consistent than my first experience, it was still very good. A salad was beautifully presented, grilled focaccia ultra-thin, risotto of morels excellent. Someone wittily pointed out that, according to Twitter, there are only ten restaurants in London, though the ten do change, but Il Ristorante is unlikely ever to feature amongst these. The media, social and otherwise, seem obsessed with the latest foraged dishes, brick-licking culinary "innovations" and cocktail bar openings of east London, but that at least means that the grown-ups can easily get a table at restaurants like this one.
Apsleys remains the best Italian restaurant in London, in my view. The meal this week featured dazzling prawn tempura that would not be out of place in Tokyo, lovely tuna tartare, tender Sicilian prawns with buckwheat pasta, turbot with pesto and beef with superb peas and broad beans. Desserts kept up the high standard, with faultless service to match. I have been tempted for a while to bump up the score here a point, and this meal tipped me over the edge. Regular readers will know that I do not lightly dish out 18/20 scores, but I have now had several meals in a row here at this level.
In other news, Chrysan closed after just six months. Sad for the staff involved, though owners Hakkasan group have said that they will try to redeploy as many as possible throughout its extensive network of properties. I had just one, rather disappointing lunch there, and can see why it would struggle, especially given its slightly out of the way location. It seemed to me another example of owners spending a fortune on restaurant design but not investing enough in choosing the right head chef, who despite having worked in a couple of serious restaurants managed a very basic error in my solitary meal there.
Next week I will mostly be eating Indian food.