Crowning Glory
Saturday, October 07th , 2017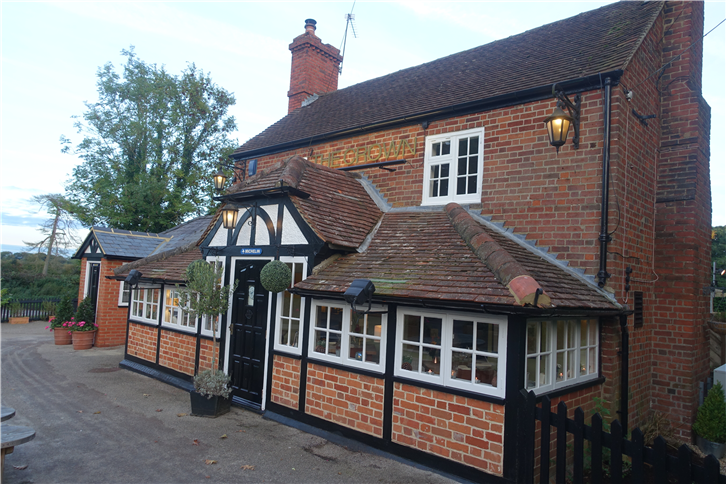 Il Pampero has taken over a Pont Street site that has seen a few different restaurant iterations in recent years. The latest one offers classic Italian cooking, with a head chef who has a good pedigree. Pasta was good, such as tagliatelle Bolognese, as was a seafood risotto. A modern, technical take on tiramisu was also very good. Prices are high, with the wine list particularly aggressive in its markups, though there was at least a decent selection of affordable wines.
The Crown at Burchetts Green has a kitchen operated by a solitary chef, with just a little help from his extensive family (he has nine children). His fridge is empty at the start of each week, and the style of cooking that he adopts is manually intensive, with for example old school sauces, so he does not make things easy on himself. Each meal here seems to get better. A puy lentil dish with mash and a delicate Parmesan crisp was particularly impressive, as was tender veal cheek with a sauce that took three elapsed days to make. Prices here are almost embarrassingly low, so if you can get to Maidenhead then do yourself a favour and pay it a visit.
Jamavar serves the best Indian food in London at the moment, and this was confirmed at my most recent visit. Butter chicken was as indulgent as its name suggests, though the star dish remains the fabulous stone bass tikka. Tandoori lamb chops were impressive, and biryani is also classy here.
I ate at Hedone for the 70th time since it opened. The obsession with ingredient quality is what sets this restaurant apart, along with sophisticated culinary technique. Star dishes at this meal were little beetroot and foie gras nibbles, a lovely scallop dish, and the signature crab dish with horseradish where the crab is prepared to order from live, so is flawlessly fresh. The chocolate flavoured millefeuille at the end was a technical tour de force. The lengthy carte blanche tasting menu here is now £135 so is not a cheap experience (there is a shorter tasting menu available) but the food here is as good as any you will eat in the UK.
The Michelin guide to the UK and Ireland for 2018 was announced. The Araki was elevated to three stars, and Bibendum was given two stars, with Whatley Manor downgraded to one star following its chef change. At the one star level, there were new stars for Moor Hall (Lancashire), Paco Tapas (Bristol), The Coach (Marlow), The Latymer (well deserved), Coworth Park (well deserved), The Clock House (Surrey), Lympstone Manor (Devon), Loch Bay (isle of Skye) and the Wild Honey Inn (County Clare). In London there were stars for A. Wong (well deserved), Elystan Street (generous), Dame de Pic (well deserved), Aquavit, the reopened Vineet Bhatia, The Square (fair), and Jamavar (well deserved). Places that lost their star were The Samling (chef change), Bath Priory (chef change), Turners, Lords of the Manor, Alimentum (surprising), Ocean (chef change), Sir Charles Napier (a deserved deletion based on my meal there), Wild Rabbit (chef change, Treby Arms, Isle of Eriska (chef change), Kinloch Lodge (a deserved deletion based on my meal) Pidgen (whose chef left) and Dabbous (closed).
In general the guide this year was less controversial than it can often be. Its overlooking of Hedone is a great shame, but otherwise there are no other obvious candidates for a second star that I am aware of around the UK except Martin Wishart and Tom Kitchin. There are still too many overrated places at the one star level that could do with a clean out in my view, but at least this year there were few obviously bonkers decisions.