I go to the "other" restaurant at the Dorchester
Saturday, December 15th , 2007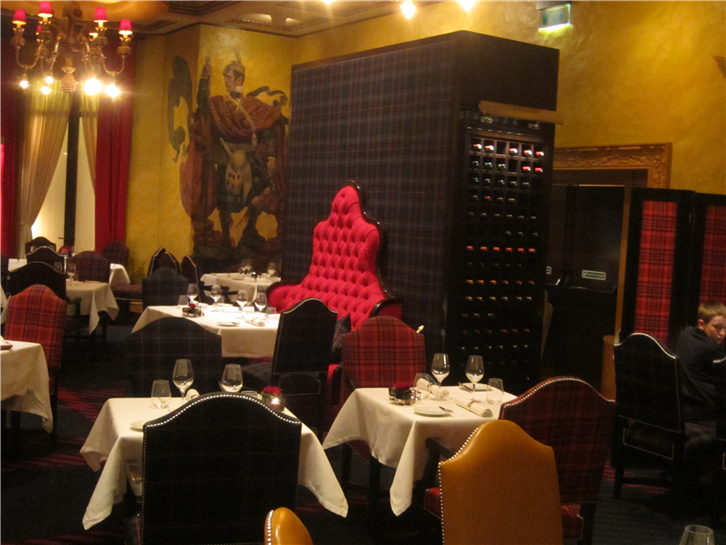 The Grill Room at the Dorchester has had more reviews written about its hideous decor (pictured) than the food, which is a shame. Chef Aiden Byrne used to be head chef at Tom Aikens so can cook to a high level, and showed terrific technique married to high quality ingredients when I went this week. He is encumbered by the ghastly room and the need to serve some carvery style food to some ancient hotel diners, but if you avoid the trolley with the meat being wheeled around the dining room the you will eat very well indeed. Marcus Wareing reckoned the meal he had here his best of 2007, so I am not alone in being impressed. If you could eat a meal here then skip the corridor to Ducasse for dessert then you would have a sublime experience. Perhaps some investor could rescue him and give him a restaurant of his own, or at least a paintbrush to obliterate the frolicking highlanders on the walls.
Tangawizi has been a great find, producing some of the highest quality Indian food in London. Superb chicken tikka this week was an example of their skills with the tandoor, while the black dhal, made with kidney beans, has wonderful texture and is lifted straight from the Bhukara in Delhi, where one of the chefs used to work.
The Brilliant added a Christmas menu, and showed the limitations of turkey as a bird. As a celebration food turkey leaves a lot to be desired, as its taste is rather dull and it is prone to dry out of you as much as look at it. The French sensibly ignore it entirely and traditionally cook a capon at Christmas, as do Italians (with the odd goose as variety). Even the chef at the Brilliant could not do much with turkey curry, which despite its spicy marinade still managed to taste dry.
Assorted Michelin guides appeared, with no change at the 3 star level in Italy, Switzerland, Holland or Belgium. Still to appear are the UK edition (end January) and France (end February). So far Germany with its three new 3 star places has provided all the fireworks in Europe, while of course the new Tokyo guide has caused a huge stir (it apparently sold out within two days), with Tokyo have more than twice as many stars awarded as Paris.