Starry dining - The Fat Duck, Pied a Terre, Le Gavroche and Locanda Locatelli.
Saturday, May 19th , 2007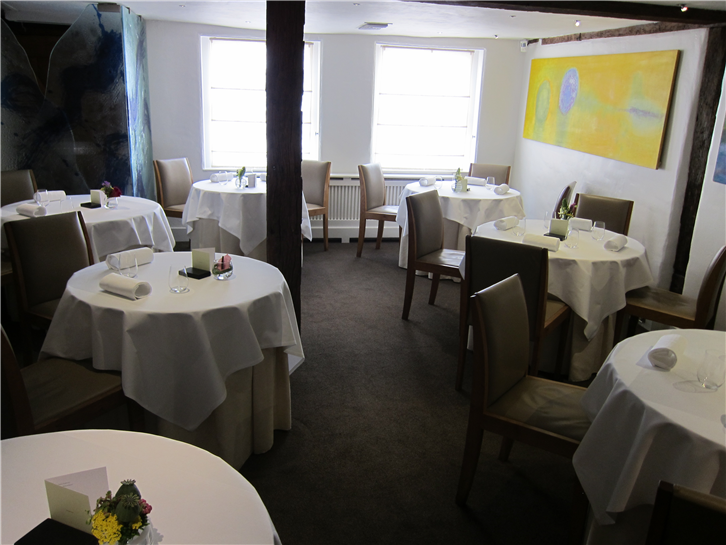 After a week in Paris it was interesting to compare some of the UK's top restaurants. The Fat Duck meal was certainly the most interesting, as apart from anything else I have never been presented with an Ipod to listen to sounds of the sea while eating before. Regular readers know that I tend to prefer classical cooking to molecular gastronomy, but at least Heston Blumenthal is talented enough to mostly pull it off. I remained a lot more impressed with the more traditional dishes e.g. the perfect pork and the tart tatin, rather than the audio beach extravaganza. Still, each meal I have had here has been better than the last, and this is now pushing close to 19/20 in my scoring system.
Le Gavroche could hardly be more different in style than the Fat Duck, serving up a much more traditional, though by no means old-fashioned, version of cooking. Prices are very high here, and over the years I had always seemed to end up with at least one inconsistent dish before the always superb desserts. However my last two visits have been a smoother ride, and this week a really fine dish of turbot with classic butter and chive sauce exemplified what top French cooking is all about. Right now Le Gavroche is cooking as good food as can be found in London, and I include Gordon Ramsay in that statement.
A perennial favourite Pied a Terre had a relative off-night, with one or two minor uncharacteristic slips, perhaps as Shane Osborne had a night off (well, his wife is about to give birth, so it is hard to begrudge him a few days away from the stoves). Desserts in particular seemed to me to be straying into oddball territory (white chocolate with pepper - anyone?) but I have it on good authority that sanity will soon be restored in this department with a (much needed) change of pastry chef. I'll give it another go when the new pastry chef has settled in and my petit fours stop doubling as Ferran Adria-esque taste landmines.
Locanda Locatelli, by contrast, was a smoother affair than on some previous visits. It seems to have settled into its stride, and produced a very impressive meal, from fine home-made breads, through excellent pasta and delicious desserts. Definitely a worthy rival to Zafferano at the top of the Italian restaurant tree of London.
After two weeks of almost non-stop fine dining I was grateful for a spicy breather at Haandi, which again produced an excellent meal. I was particularly impressed with a prawn starter that featured very large prawns; at most restaurants (and not just Indian places) these would have been chewy, yet here they were perfectly tender right the way through, a testament to the skills of the tandor chef.
It was also lovely to bite into my first alphonso mango, at the height of their brief season right now. These are more fragrant than other mangoes, and are a real treat. American readers can now enjoy these legally for the first time, as the land of the free finally rescinded its ludicrous ban on these this year (those pesky Indian farmers use pesticides apparently, which clearly in no way feature in the food chain in US agriculture, no sir). Enjoy y'all. Shame about the foie gras in Chicago.
I forgot to mention in my last blog a couple of other Paris food experiences. Patrick Roger makes some of the finest chocolates in France, with extremely fine workmanship, and are worth trying if you are in Paris. However, even better for me was my first visit to Pierre Herme, the most famous patisserie in France. Apart from superb lemon tarts I tasted a croissant so utterly perfect than I could hardly believe what I was eating. If you are ever in Paris, this is a must. I just can't believe I missed out on this experience all these years.