The weirdness that is Suka
Saturday, April 28th , 2007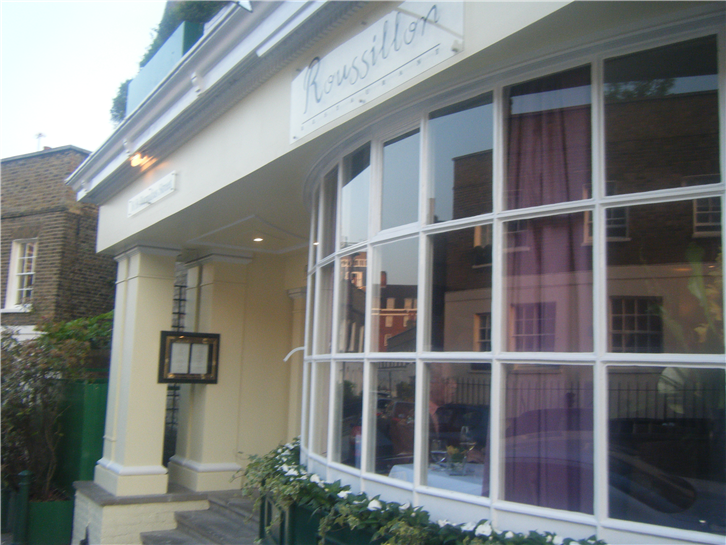 A fairly starry week for me this week in more ways than one. Roussillon delivered perhaps the best meal I have had there, fully justifying its Michelin star. The home-made breads are lovely, one of the desserts (the croustillant) is magnificent and the general standard of cooking and service is high. It can only be its quiet location which causes it to be less busy then many inferior London restaurants.
The Ledbury is altogether trendier than Roussillon, near Notting Hill rather than Victoria, also has a Michelin star and is packing them in. It produced an excellent meal this week, and in particular the desserts here were great, indeed of a higher standard than the rest of the meal in my view. A very enjoyable experience.
The Vineyard at Stockcross is near Newbury, which the observant amongst you will have determined is not on the tube, let alone being within the Circle Line. Though such a location would normally cause me great concern, I have to say that in this case it was worth risking the trip. The restaurant is in a modern and perhaps slightly clinical hotel setting, but the food demonstrated both good quality ingredients and pretty much faultless technique. On this occasion the tendency of the kitchen to veer into esoteric flavours was restricted to petit fours, so I was able to enjoy a meal free of basil froth and the like. Service had a few flaws on my visit, but it was a good experience overall.
I ventured to Hammersmith to try the Anarkali, one of a whole row of Indian restaurants in King Street. I'm afraid this meal did nothing to indicate to me any reason to return other than a surprisingly good bhindi and decent naan bread. On the next table was actor Colin Firth, but this was the only star the kitchen here is ever likely to see; cheap frozen farmed prawns had a hint of chlorine about them and were overcooked to boot. If in the area, I stick with my view that Agni is the best of this clutch of north Indian restaurants.
Finally Suka, the new restaurant at the trendy Sanderson hotel, was all over the place. It managed dishes ranging from genuinely good to inept, and although it is interesting to see Malaysian food elevated to such a posh setting, the high prices here demand a far smoother ride than the one we experienced. If you had said to me at the start of the week that I was going to Suka and a curry house in Hammersmith, and asked for odds at which one was I going to see a famous actor, I would have to say that the smart money would not have been on the curry place. This perhaps illustrates why gambling should be avoided.