From Chiswick to Mayfair
Saturday, December 07th , 2019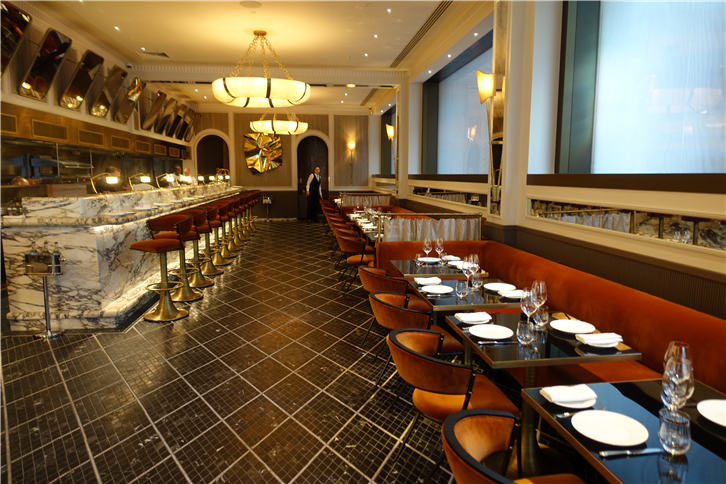 Atelier Robuchon in Covent Garden closed some months ago but makes way for the latest brand in the Robuchon restaurant empire, Comptoir Robuchon (pictured). This has a brasserie feel to it, located in Mayfair and will soon be accompanied by a Robuchon delicatessen a few doors away. The dishes are mostly familiar if you know the Atelier Robuchon menu: quail, lobster jelly with caviar and crab, Dover sole, the famous mash etc. The kitchen is headed up by the same chef that led the team at Atelier Robuchon, and there is the same precision in the dishes. Service is slick and the wine list expensive and mostly French, as is always the case in Robuchon restaurants. At my meal here a pasta dish was just a bit too simple, but the signature lobster jelly and caviar is as good to taste as it is to look at, and the rum baba was top notch. If you can afford it, then you will eat well here.
Rambla in Dean Street has been replaced by a more ambitious fine dining restaurant called Sola, this time serving Californian dishes rather than tapas, but with the same chef owner Victor Garvey, who was born in Barcelona but spent many years on the west coast of the USA. The menu is appealing and the quality of the ingredients unusually high, with things like Landes chicken and crab from Dungeness (from the west coast of the US rather than the nuclear power station in Kent). The cooking was generally good too, with an excellent cardoon gratin and top-notch puff pastry made from scratch in the kitchen. As a bonus, the Californian wine list was very kindly priced by London standards.
La Trompette has been going eighteen years now, and continues to produce enjoyable food at a fair price for the residents of Chiswick. An excellent wild sea bass dish and a good clementine tart illustrated the best of the cooking here, which is reliable and appealing. This is the restaurant that put Chiswick on the culinary map in London, and it is nice to see it still on good form.
The Michelin 2020 guide to Belgium and Luxembourg was published. No change at the top. Belgum now has 1 three star restaurant, 23 two stars and 106 one stars. Luxembourg has 1 two star restaurant and 8 one stars.