The Gilbert Scott in St Pancras
Saturday, July 30th , 2011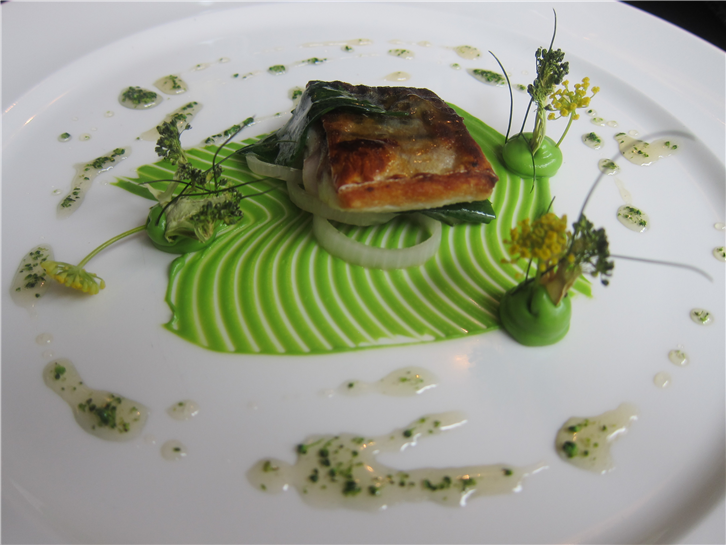 The Gilbert Scott is the brasserie of the Renaissance Hotel in the revamped St Pancras station. The dining room is attractive even though the tables are small and crammed in. The British food (with some nods to old classic dishes) on this visit was mostly quite capable, with a good slab of plaice and even a nice piece of pork pie. The quibble, and it is a large one, would be the bill, which quickly mounts up to a size that it is not easy to justify given the level of cooking here. This seems not to trouble the diners around here, as the restaurant is doing a roaring trade – recession, what recession?

The Old Pack Horse was my latest leg of my quest in mostly fruitless search for decent Thai food in London. Although just a dining room at the back of a pub, the restaurant here had a certain amount of promise by dint of being sister to the excellent Addies Thai. The food at The Old Pack Horse is not at all in the same league, yet is pricier. A nice green curry was the best dish, but there was also a downright inedible starter to balance this. The food here is acceptable if you live nearby, and it is better than many other places in the area, but then that is not setting the bar very high.

Roganic is the London sister of l'Enclume in Cumbria, which has carved out a reputation for very modern cooking based on local, often foraged, ingredients. I confess to being a little nervous before the meal, as some of the ingredients are unfamiliar, and I was worried that the effect might be to show off how trendy the cooking was rather than actually tasting good. In fact I need not have worried, as the flavour elements worked very well together throughout the meal. The lengthy tasting menu flowed logically and was carefully judged, and I would also add that this is some of the prettiest plating I have seen (an example is pictured; see the review for lots of full size photos). It reminded a little me of the meal I had earlier this year at Viajante, but I much preferred the cooking at Roganic.

Dishoom has a permanent queue of people waiting to dine, but this week delivered a very inconsistent dinner, much lower in standard than my initial lunch here. Although there were still a few good dishes there were far too many slips (burnt potatoes and singed chicken, over-salting) for comfort. I have adjusted the website score down a notch to reflect this, and even the current score feels rather kind.

I was unable to resist a quick lunch to revisit the superb grilled mackerel at Kiraku in Ealing, which was every bit as good as I remember it. At some point I will manage to get past this excellent dish and order some other food here.

The Brilliant is one of the most consistent restaurants that I know, delivering full-flavoured Punjabi dishes successfully night after night. This week, as well as some of the regular dishes such as excellent fish pakora, I also sampled an off-menu tandoori rabbit dish, which was quite interesting.

I also sneaked in another meal at Hedone (my fifth in two weeks), encountering some very fresh mackerel and utterly superb lamb. This lamb, from Yorkshire, was the best I have tasted, bar none. The chef here really has a gift for spotting high quality ingredients.

The blog is going to take a short break and will resume in a couple of weeks; it should have some interesting stories to tell on its return.