A week in Chicago
Tuesday, May 31st , 2011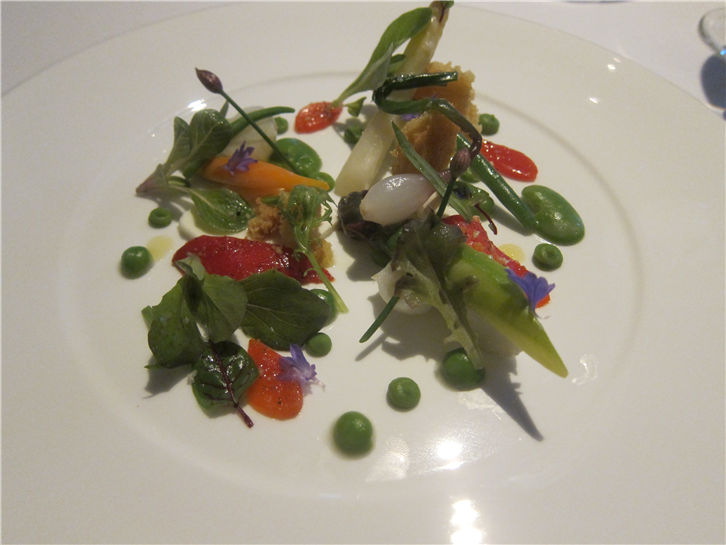 After a brief visit to Roux at Parliament Square (which was on good form under its new chef) and Haandi, which was as reliable as ever, I headed off to Chicago. In my time there I was able to try most of the high end restaurants, as well as a few casual ones. Chicago is an exciting city to visit if you are even slightly interested in architecture, as it has some of the most interesting examples of modern architecture anywhere. Frank Lloyd Wright had his offices here, and the fire of 1871 that destroyed most of the centre of the city enabled a blank canvas for architects around the world to try out their latest ideas. Sadly on our visit the city demonstrated why it has the nickname "the windy city", with some biting wind and plenty of rain, but I can testify from my previous visit that this is not always the case. On the food front, Chicago is the latest US city to have the attention of Michelin.
RIA has 2 Michelin stars and was in the hotel where I was staying (The Elyisan, excellent by the way). We had an excellent meal at RIA, with an attractive room, excellent service and very good food, showing good technique and sensible flavour combinations. Presentation was also quite pretty (example pictured).
Avenues was less successful. Also in a hotel, it delivers ultra-modern food, but not entirely happily on our visit. A number of flavour combinations made little sense to me, and ingredient quality also at times seemed secondary to showing off flashy cooking techniques.
L20 is one of the pair of restaurants awarded three Michelin stars in the inaugural Michelin Chicago Guide 2011 (the other is Alinea). Controversially, the chef left just about the time the guide was published, following a disagreement with the owner. I was a little nervous about the effect that this might have on the food, but fortunately the kitchen is in the safe hands of his former chef de cuisine, and we had a terrific meal there. It was that rarity for me, a 3 star Michelin restaurant in America that would, in my view, be worthy of three stars in Europe (say, in France). There was just one technical slip during the meal, but also some real highlights.

Mexican food in the USA has been popularised by celebrity TV chef Rick Bayless, who has published numerous cookbooks. He runs several restaurants in Chicago, the best known being Frontera Grill and Topolobampo, which are co-located alongside a Mexican fast-food outlets called Xoco (which was pleasant and inexpensive). Frontera Grill was casual and extremely popular, but on the lunch that I ate there I was unable to really figure out what all the fuss was about. Better was Topolobampo, a more upscale take on Mexican dining. I had an enjoyable meal there, but it is baffling to me why Michelin awarded it a star. It was good Mexican food and better than most Mexican places, but not the best I have eaten in the USA.
Next week I will review Alinea and catch up with my week in the Napa Valley and San Francisco.