A visit to Berlin
Saturday, October 18th , 2008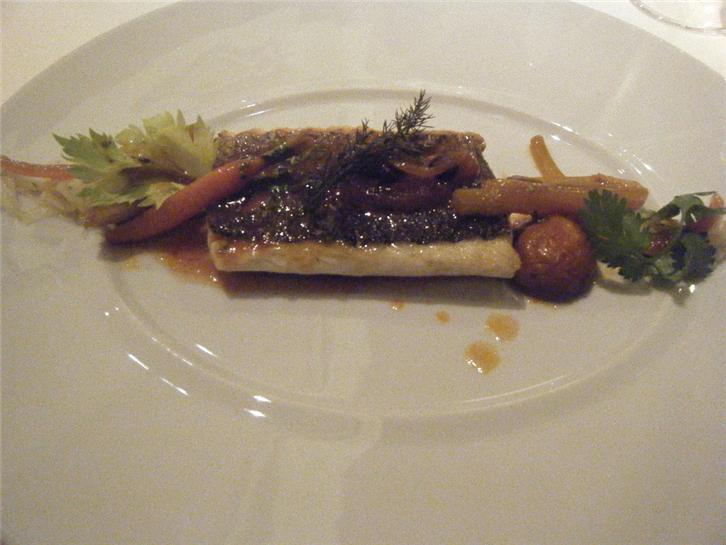 I always wondered who turned up to the Brian Turner place in Grosvenor Square, and it seems the answer is: not enough people. It is now the site of
Avista
, an Italian restaurant headed by Michele Granziera, the long-time sous chef at
Zafferano
. The place never quite escapes that dreaded hotel dining room feel, not helped by the muzak playing and wine prices only someone who could not translate currencies properly would willingly pay. This is a shame since the cooking is actually very good, especially the fine pasta, accurately timed fish and foccacia made from scratch.
Fischers Friitz
is the only two Michelin star restaurant in Berlin (promoted in 2008), which is in many ways odd given just how good the top restaurants in Germany are. Yet it also reflects the genuinely de-centralised nature of modern Germany. Berlin is a vibrant city and it is great to see the revived east of the City. I first visited Berlin as teenager (and had my first driving lesson there) and at that East Berlin was as drab and grey as you might imagine; it really did have Trabbant cars everywhere. Now it is as smart as you could wish. I had an excellent if slightly costly meal at Fischers Fritz, off the beautiful Unter Den Linden boulevard, and the restaurant thoroughly deserves its second star. The menu has modern touches but never forgets that high quality, seasonal ingredients are key to ensuring a top quality meal. The cooking was consistently good, with dishes such as gilt head bream (illustrated) timed very carefully and full of flavour.
Medcalf
is in the bustling Exmouth market, but was distinctly quiet next to the busy Moro. We were the last diners of the evening, but there was no excuse for the ropey meal we were served. The staff were clearly in a rush to finish, and our food certainly arrived promptly. I am actually impressed that they managed to overcook the scallops in the limited time available, but they did. Bread was not served at all until I asked for some, and the staff were openly wrapping this in cling film for the next day as we left. If restaurants really want to give the last diners of the evening a hard time then perhaps they could have the decency to offer a discount, rather like you sometimes get a cheaper pre-theatre menu. It could be the: "we'll treat you like dirt, but it will be half price" discount. Not so catchy, but at least it would be honest.
It is perhaps ironic that
Bibendum
is situated in the old Michelin Building and makes this a major theme, right down to the water glasses, yet never troubles the Michelin inspectors. Yet on a sunny lunch time it is hard to think of a prettier dining room n London, with the light streaming through the stain glass windows. I was a regular here nearly two decades ago, yet somehow got out of the habit of coming after Simon Hopkinson stopped cooking. However I had an extremely enjoyable meal here this week, and it certainly brings back memories. Any restaurant that lasts 21 years in London has to be doing something right.
Speaking of memories, local favourite The Brackenbury is just that now, as it closed its doors this week for good. The restaurant has always suffered from a problematic location in a residential street between Hammersmith and Shepherd's Bush, not very near a tube or, indeed, anything much. However despite ownership changes over the years it managed to produce consistently solid 4/10 level food at a very fair price. When I think of all the dismal restaurants in London that I have eaten at, for this one to fold seems particularly sad. A fond farewell Brackenbury.
This week the third edition of the Michelin Guide to California appeared, with relatively little change at the top. The French Laundry is again the solitary three star restaurant, and there are six two star places (as in 2008): Cyrus, Agua, Meadowood, Michael Mina, Manresa, with Coi in San Francisco the sole promotion. Chez TJ dropped its second star. There were 25 one star places, down from 27 in 2008.
The full list of one star places is:
Acquerello
Ame
Auberge du Soleil
Bistro Jeanty
Bouchon
Boulevard
Chez Panisse
Chez TJ (demoted to one star)
Dining Room at the Ritz-Carlton
Farmhouse Inn & Restaurant
Fifth Floor
Fleur de Lys
Gary Danko
La Folie
Madrona Manor
Martini House
Masa's
Murray Circle (new)
One Market
Plumed Horse (new)
Range
Redd
Terra
Trevise (new)
Village Pub (new).