A Trip to Riga
Saturday, February 25th , 2017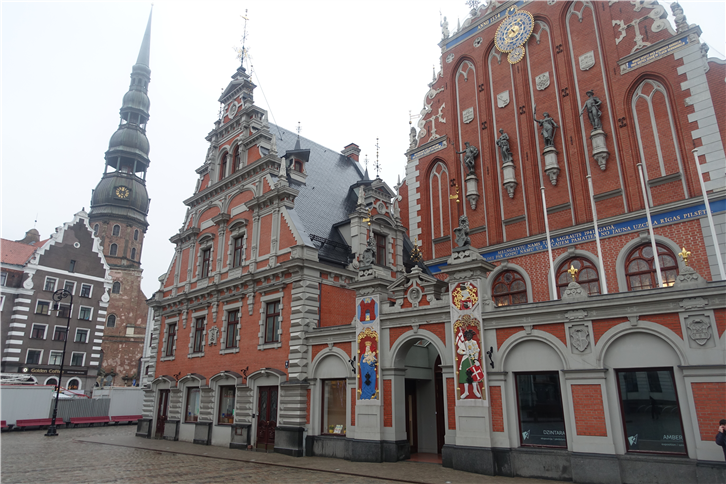 I was invited to give a lecture at a chef's conference in Riga, a city I have not been to for well over a decade, so took the opportunity to try out the local dining scene. If you are unfamiliar with Latvia, it is on the Baltic Sea and became independent in 1991, with a population of 2 million. It has an attractive old town that is fairly well preserved, though not as extensive as the old town in Tallinn over the border in Estonia. Riga possesses some attractive Art Deco and Art Nouveau era buildings.
The top dining destination in Riga by general consensus is Vincent's, where the focus is on luxury ingredients. I had a very good meal here, and enjoyed some excellent langoustines as well as a lovely sweetbread dish. The next best meal that I had was at Biblioteka Number One, located in a very pretty park setting. Here the chef tries to make use of local Latvia products where possible, so I sampled dishes like sturgeon, moose and birch sap sorbet. The smoked beaver was sadly unavailable (though I guess the beaver did not see it that way).
At the mid-range of the market I enjoyed Three, where again the chef concentrates on Latvian recipes and products, and also Muusu, where I had some Latvia chicken that had good flavour and where the set lunch was an absurdly reasonable €15. Finally I tried Gastronome, where the cooking was reasonable but the ingredient quality was rather ordinary.
The local restaurant scene has certainly improved dramatically since my first visit here, and if you fancy somewhere different to visit then Riga certainly has some nice sightseeing. It also now has some quite good restaurants too.
In other news, the Michelin Scandinavia guide 2017 came out. There were two stars for Henne Kirkeby Kro in Denmark (well done Paul Cunningham) and Vollmers in Malmo. Both Frantzen and Noma were deleted since they are currently closed, as was Matthias Dahgren. There are now 22 starred places in Denmark, 4 in Finland, one new one (Dill) in Iceland, 7 in Norway and 23 in Sweden. The only three stars in the region remain Maaemo and Geranium.
This is not quite the last guide of the season, as there is still the "Rio de Janeiro and Sao Paolo" guide, and also the "Main Cities of Europe", which covers large cities in some countries without their own guides e.g. Athens, Warsaw, Budapest. These two guides normally turn up in March.