The City of Spires
Saturday, July 02nd , 2016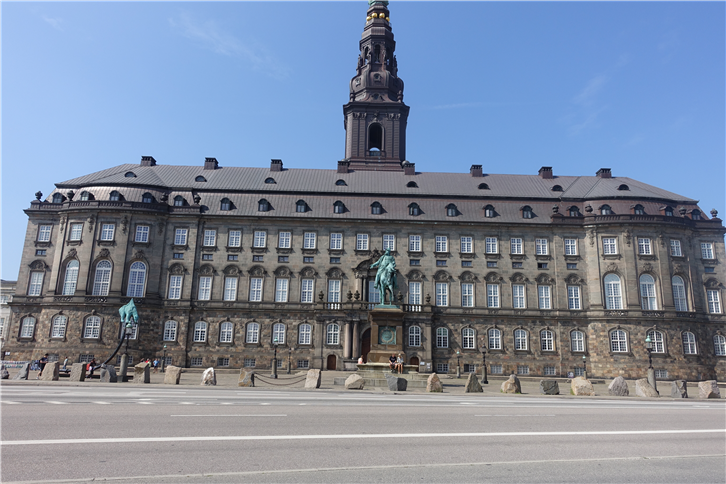 Copenhagen has become quite a dining hub in the last decade, with the prominence of Noma, which opened in late 2004, leading to other restaurants serving "New Nordic" cuisine. No less than 19 have a single Michelin star, as well as a pair of two star restaurants and now a three star place too. Some of these establishments, such as Relae, are run by ex Noma staff who have struck out on their own. In general this style of cooking focuses on ingredients found locally, and its proponents claim that it is all about "purity, simplicity and freshness", which are labels that could be applied to many styles of cooking. In practice it has meant an emphasis on the use of foraged ingredients, a tendency to use quite a lot of dried meat, and with plenty of use of pickling of ingredients. In restaurants there has been an emphasis on presentation, with much use of artfully tweezered edible flowers, and in some cases a tendency to use unfamiliar and sometimes challenging ingredients. The ants that have been served at Noma (actually drawing on something done in South American cooking) and elsewhere are just one example.
The most successful of these restaurants in terms of awards has been Geranium, which was awarded a third Michelin star in the 2016 guide and features on the controversial "Top 50" list at number 28. Its chef has won the gold medal in the prestigious Bocuse d'Or chef competition to boot. Curiously, it is located in a football stadium, but there are no hot dogs on the menu here – indeed hardly any meat at all. The no-choice tasting menu features a lengthy sequence of Instagram-friendly dishes featuring vegetables and seafood with plentiful use of edible flowers and herbs to enhance the appearance of the dishes. This is of course no bad thing in itself – we first eat with our eyes after all. However some restaurants these days seem to worry about appearance over flavour, which is not the case at Geranium, where the culinary technique was impeccable and where the flavour combinations are generally perfectly logical. For me there was little in the way of the "wow" factor that I experienced with many dishes last week at both Pic and Troisgros. However the dishes were pleasing on the eye and were almost entirely enjoyable. The chef here is trying to please his customers rather than shock them. After this visit I have now been to 112 of the 113 restaurants in the world that, as of this moment, have three Michelin stars.
Another restaurant in the same new Nordic style is Studio, with an ex Noma chef and a menu that featured many very pretty dishes. The quality of the seafood was certainly high here, with excellent scallops and langoustines, and again the flavour combinations mostly made sense. A nibble of crisp potato with smoked turbot, a nod to fish and chips, was particularly enjoyable. As usual I struggled with the savoury/sweet combination for dessert that is all the rage in Scandinavia (and elsewhere now) but overall it was a very good meal, and service was particularly capable and friendly.
By contrast Kong Hans Kaelder champions classical cooking, as befits its location in one of the oldest buildings in the city. Dishes here that I enjoyed included monkfish with a lobster sauce, and a venison main course with a proper sauce. Service was excellent and there is a huge wine list, though food and wine prices are distinctly at the high end of the spectrum. Still, it is interesting to see somewhere bucking the trend and going back to a more established style of cuisine.
The meal I actually enjoyed the most on this trip was at Kiin Kiin, a Michelin-starred modern Thai restaurant that has a new head chef since my last visit. The cooking here is characterised by vibrant flavours, with presentation a secondary concern. This is not to say that the dishes here are just Thai curries, stir-fries and salads served in communal bowls. In actual fact the kitchen has thought a lot about how to adapt Thai cuisine to the modern world, and unashamedly draws on the latest cooking techniques where it is useful. An example of this was a red Thai curry served in two ways, one in a traditional style and the other using frozen elements and presented in a cloud of dry ice. However the key to the cooking here is not the gimmicks but a core theme of strong but balanced flavour. A tom yum soup went through no less than five repeated stages of preparation to draw out the maximum flavour from the langoustine shells and spices used. Sweetbreads with lemongrass, tamarind and rice vinegar showed great skill with balancing the sweet tamarind with the sourness of the vinegar, combining to complement the silky richness of the sweetbreads. There is a sense of fun too, as in petit fours disguised in a bowl of red chillies and another of cinnamon bark. Within the bowl is one "chilli" that is actually made of chocolate – but which one? It was the same for the cinnamon stick bowl, so was a sort of game of petit four Russian roulette. Some people may not enjoy such japes, but it was an example of a genuine sense of playfulness and enjoyment that emanated from both the head chef and the restaurant owner. The whole experience was much less solemn and serious than at most restaurants, yet the flavours on the plate were very serious indeed. Kiin Kiin wants its customers to enjoy themselves, and not surprisingly it was completely packed even on a midweek night.