I spend a week eating in Madrid
Saturday, November 17th , 2012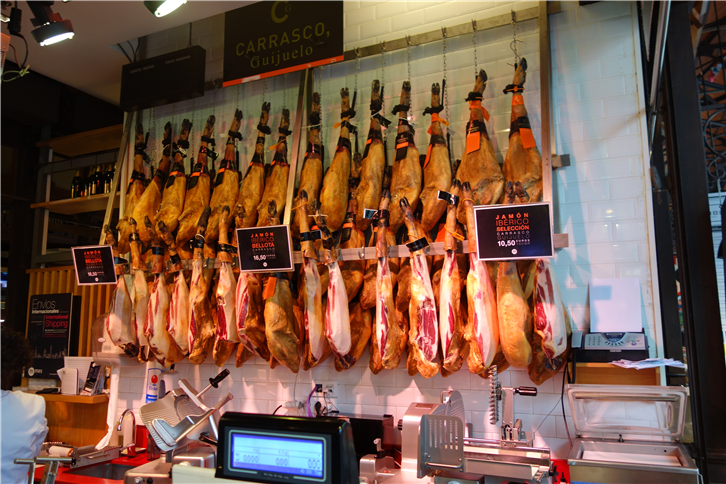 Madrid, as befitting its considerable imperial history, has some fine buildings and monuments (one in Retiro Park is pictured) and a royal palace of such grandeur and proportions that it probably singlehandedly explains where all the spoils of empire actually went. There is also a small but interesting covered food market called San Miguel (pictured), where you can stand around nibbling on tapas and drinking wine whilst you shop. Madrid also boats the oldest restaurant in the world (according to the Guiness Book of Records), Botin, which has been operating since 1725. As it now seems to cater to primarily to tourists I didn't try the food there, but it was interesting to see the place (pictured right), which specialises in suckling pig.

During the week I was able to try a few different restaurants from my prior visits. Sacha was a good quality neighbourhood restaurant that had simple but enjoyable food, with one pasta dish in particular very good indeed. Somewhat more ambitious, and at a higher price point, was Viridiana, where a lengthy tasting menu had a few highs but was unrelentingly rich (even the desserts were cloying).

I was pleasantly surprised by Punto MX, which was that riskiest of restaurant excursions: a Mexican place. However unlike all the "gourmet' Mexican restaurants that I have tried over the years in the USA and London, this was the real thing. The chef is from Mexico City and is clearly on a mission to educate European diners that Mexican food can be something beyond the Tex Mex slop that we have become accustomed to. Ingredient quality here was high e.g. wagyu beef tacos, and a chorizo that was made from scratch from Iberico pork. The tortillas and tacos were all made from scratch to order, and were a world apart from the hard pre-prepared industrial crisps that we are used to in London. I was quite taken aback by Punto MX and would be delighted to try it again some time. I would be even more delighted if they opened a branch near me.

The classiest meal of the week was at Club Allard, a meal that I was not particularly looking forward to since it was very much in the molecular gastronomy vein: edible menus, chemical trickery with food textures, ingredients disguised as other things, the works. Yet the skill level was so high that, although there was the odd dish I was not taken with, I found myself enjoying the meal very much. A main course pigeon in particular was dazzling, the high quality Bresse pigeon showing that the chef cared about ingredients and not just about the settings on his kitchen gadgets.

Two Michelin guides came out this week, the Chicago guide and the Italy guide. The Chicago guide had no surprises at the 3 star level, though L20 regained a star and there was another two star debutant in the form of Graham Elliot. The 16 one star restaurants constitutes a slight drop on previous years, however. The 2013 Italy guide contained more drama: Piazza Duomo in Alba was promoted to three stars, but Al Sorisso was sadly demoted. There are now 39 two star restaurants in Italy, with the additions of: Agli Amici in Udine, Antica Osteria Cera in Campagna Lupia and La Trota in Rivodutri. There are no less than 261 one star places.