An Indian food week
Saturday, March 07th , 2009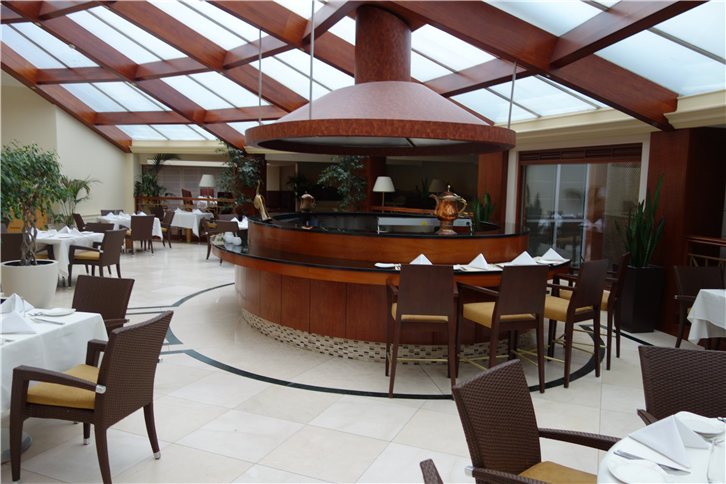 Zeen
is a new Indian restaurant in Drummond Street, a street already teeming with them. Unlike most of the neighbours, Zeen is not a south Indian vegetarian restaurant, though it does include some southern Indian specialities on its menu. Despite one major slip-up the cooking was generally pretty good, and the prices are very reasonable indeed. My main course sea bass dish was just £10.95, for example, and many starters are just £3.50. The menu spans India in terms of dishes, but seafood features heavily.
The
Bombay Brasserie
(pictured) has finally re-opened after a lengthy refurbishment. The "Last days of the Raj" feel has gone, and there is now a somewhat "hotel dining room" main room with chandeliers and a better laid out conservatory, with a central bar area in this sometimes used for cooking demonstrations. Critically, the menu and the kitchen team has been revamped too, and we had some very carefully cooked dishes. Both tandoori chicken and salmon were of a high standard, while a trio of large char-grilled prawns were dazzlingly good. Not everything was to the same level, as in an ordinary black pepper chicken and a grainy kulfi, but the kitchen even cooked an excellent bhindi, a skill which eludes even some of the best Indian places in London. Prices are still fairly high, but now you are clearly getting something for the money. This was reflected in the almost full dining room on a weekday; to nearly fill a 200 seat restaurant these days mid-week tells you something.
Sagar
is a vegetarian restaurant in Hammersmith (there is also a branch in Twickenham). I have tried it twice now and found this meal rather better than my previous visit. The star of the show was an excellent dessert: shrikand, which is a lot of work to make and hence is rarely seen on restaurant menus. Also very good was a bhatura bread. In general I found the spicing rather too restrained, but this was certainly a pleasant enough meal.
There is something very comforting about
Le Gavroche
. It is partly the gentleman's club décor, partly the superb service, but also the classical French food. This seemed a natural place for dinner on my birthday, and the cooking did not disappoint. Artichoke filled with foie gras, truffles and chicken mousse was an attractive sphere of taste, each internal layer adding something to the next: the earthiness of the artichokes balanced the richness of the chicken mousse, the black truffle adding an attractive aromatic element – rich but superb. An old classic of lobster with garlic butter and béarnaise sauce with lovely chips (made with goose fat) was a rich dish, but the great technique shown in the sauce and the tender lobster was a winning combination. Desserts are always the strongest element of a Gavroche meal, and here a passion fruit soufflé with white chocolate ice cream was just about perfect. A lovely meal.
The
Harwood Arms
continues to impress me. A lunch this week included excellent hare braised in mead with roast carrots and kale, the meat falling off the bone, the vegetables very well cooked. I couldn't resist the terrific Scotch egg, while there was also a very well made dish of rhubarb beignets (pictured). This must be the best gastropub in London, and unlike some current gastropubs that are restaurants in disguise with prices to match, this still feels very much a pub. A pint of lager was £3.60 with my lunch, compared to prices for a half pint at £6 or more in certain central London venues (yes Foliage, that means you).
In other news, Marc Veyrat
announced
that he would close his 3 star restaurant on Lake Annecy. He has long been one of the most innovative cooks in France, and not only has long retained 3 Michelin stars but (controversially) has the only 20/20 score in the Gault Millau. From the announcement it seems as if he is not closing off the option of some form of culinary return in the future. I haven't been there for some time but I still recall individual dishes from the striking meal that I had there.
The France Michelin was released, promoting the
Bristol
to three stars. I am sure this has nothing to do with it being President Sarkoszy's local restaurant, no sir. For me it was 3-star level only at the dessert stage, though the prices certainly were stellar. Olivier Roellinger had previously announced his retirement, so that was the only official "suppression" as the press release sweetly terms it. There were nine new two star places:
L'Atelier de Jean-Luc Rabenel (Arles)
Le St-James (Bordeaux)
Guy Lassausaie (Chasselay)
Mere Brazier (Lyon)
L'Espadon (Paris)
Hostellerie Le Castellas (Pont du Gard)
Casadelmar (Porto-Vecchio)
Faventia (Tourrettes)
Gordon Ramsay au Trianon (Versailles).
Les Elysees in Paris and Le Moulins de Mougins lost their two stars entirely, while Chez Ruffet went from two stars to one. There were 65 new one-star places. 39 places restaurants lost their single star, including (finally) the disappointing Vistamar in Monaco. This is the 100th edition of the France Guide; although it started in 1900 a number of years were missed due to the world wars.
That is almost it for the 2009 Michelin guides, though still to come in the Main Cities of Europe Guide (due late March). This covers big cities like Paris already dealt with in the various country guides, but also includes a number of venues not covered by these guides, such as Scandinavia and parts of Eastern Europe. There has yet to be a 3-star place in this guide outside the regular country guides, but with for example Noma in Copenhagen making culinary waves, you never know. For the full list of 3-star places see my
site
.
For those who are interested in such things, Joel Robuchon now has 25 Michelin stars in total, the leading chef in these terms. Alain Ducasse has 17, Gordon Ramsay 12 (now 11: as of today, depending on your viewpoint, Gordon Ramsay Holdings are still counting it given Gordon's ongoing involvement) by my count.