Roussillon revisited
Saturday, August 25th , 2007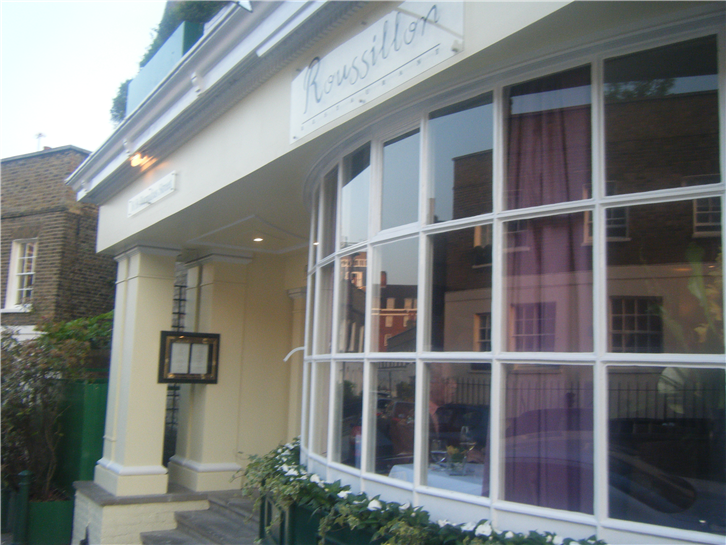 A return to Roussillon confirmed the general pattern of earlier visits. The strengths here are the desserts and the excellent home-made bread. The starters and main courses never quite live up to the rest of the meal in my experience, though they can be very good e.g. a prawn tempura had very light batter and good quality, carefully cooked prawns. However a "wild" salmon that didn't taste wild (perhaps it was, but it was anyhow lacked any great flavour) and a genuinely wild sea bass were correctly cooked but just not that exciting. However a technically well made chocolate souffle showed the class of the pastry chef here, while the "croustillant" (pictured) is a competent rendering of this famous dessert at Louis XV in Monaco, where the chef worked for a time. Service was exemplary as usual, and the wine list explores areas of south western France normally left untouched by restaurant wine lists. For me this is worth 6/10 overall.
Tangawizi (by Richmond bridge) continues to impress me. There is little to fault in the cooking here. The tandoori dishes are top notch - this week I tried a special dish of chicken tikka flavoured with dill; I'm not sure this is the very best pairing imaginable but the chicken was ultra-tender. Methi chicken had plenty of rich fenugreek flavour, and the vegetable dishes here are very well handled. The makhani dal is the best in London, while aloo gobi had potatoes and cauliflower that retained their texture when so often elsewhere they can become a soggy mess. Garlic naan was also unusually good. From September they plan to open on Sunday evenings.
Royal China in Queensway is a long time favourite that never seems to change. This timeless feel includes the timewarp decor, which looks like a tacky 1970s disco. If it looks vaguely familiar on a first visit this may because you memory is recalling a scene in the movie "Sexy Beast" set in the restaurant. Fortunately the fine Cantonese cooking never changes either. Very consistent technique was shown in a whole steamed sea bass with black bean sauce which was very delicate, wilted coriander leaves adding a nice extra touch to the sauce, while steamed gai lan with garlic is one of the very best vegetable dishes you will have anywhere. The Chinese broccoli is steamed to perfection, lightly flavoured with garlic, and had great flavour. If you exclude Hakkasan/Yauatcha I feel Royal China serves the best Chinese food to be had in London.
I admit to popping into Gourmet Burger Kitchen, which for a chain seems pretty good to me. It is certainly way ahead of its rival Ground. I am looking forward to several potentially interesting London openings in the next couple of months: the new Alan Yau Japanese eatery in St James, Hibiscus and Alain Ducasse at the Dorchester.