A week in California
Saturday, March 02nd , 2013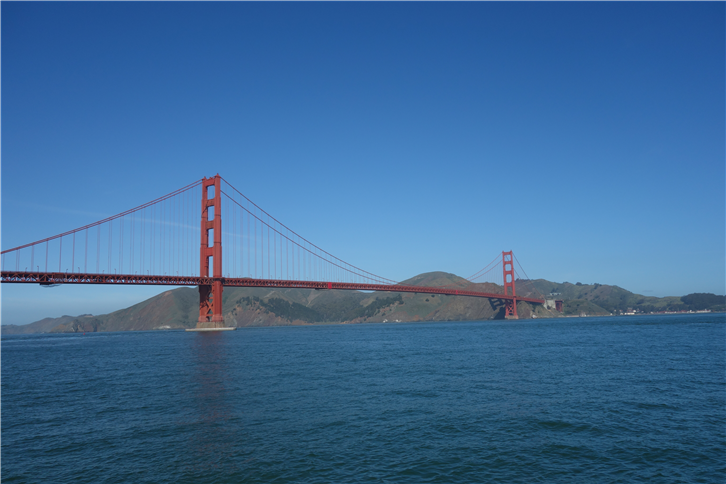 In the heart of Silicon Valley's venture capital industry is the Sand Hill Road. The relatively new Rosewood Hotel has a Michelin starred restaurant called Madera. I am not sure why the US Michelin inspectors seem so often to apply a different standard to restaurants to those in Europe, but this is a further good example. The food in this large hotel dining room was pleasant enough, with a simple if unremarkable salad, duck and doughnuts. Perfectly acceptable cooking, if expensive for what it was, and at least there is a pretty view. But a Michelin star? Please.
In San Francisco (pictured) I had time to try four restaurants. Atelier Crenn served sophisticated modern food, but firmly based on French culinary technique. Dominique Crenn is the first female US to gain two Michelin stars, and the tasting menu that I tried this week was very good. The dishes are complex but the modern techniques were not at the expense of flavour. I felt that the desserts rather lost the plot, but all the way through the many savoury courses the food was interesting and enjoyable. Service was also particularly slick.
Quince is the elder sister of Cotogna, and an altogether more formal affair. The Italian cooking demonstrated strong culinary technique, with very light gnocchi for example, and the food was consistently good throughout the meal. The dishes were presented attractively, and this was certainly not rustic food. Again the service was top notch.
The Slanted Door was the first San Francisco restaurant to take Vietnamese food up-market, and it is as popular as ever. Now with a lovely view over the bay from the Ferry Building, the dishes that I tried were generally good, even a little better than I recall from a decade ago. The vast premises were packed even at lunch, so the formula is clearly highly successful.
Another large, busy restaurant in the same area was Ozumo, serving simple but appealing modern Japanese food. I only sampled a bento box here, but the food was competent and very fairly priced, and I would happily pop back if in the area.
San Francisco is my favourite US city, with a stunning natural setting, interesting architecture and neighbourhoods and a tremendous variety of restaurants. It also managed to offer glorious warm weather this week, which made a nice change from the cold of London. It is easy to see why so many people move to California.