Hof van Cleve and Oud Sluis - serious food
Saturday, July 28th , 2007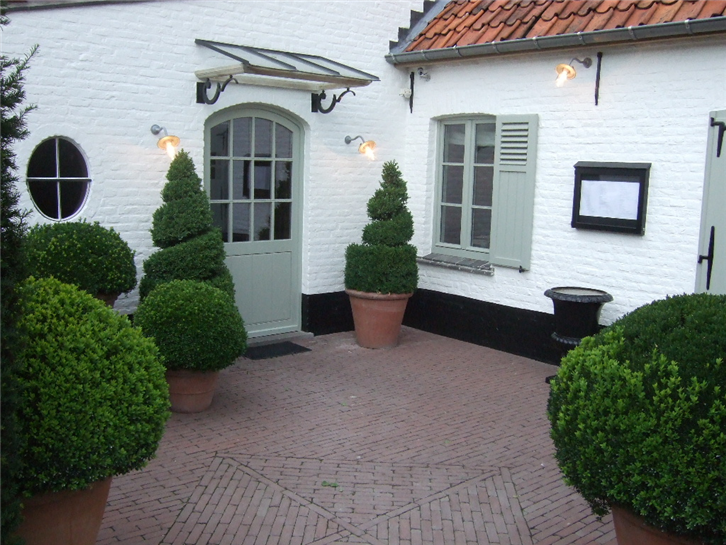 In my recent circuit around the top UK restaurants the best two meals were at the Fat Duck and the Manoir au Quat' Saisons. This week provided an excellent opportunity to compare the best of British with the best of Benelux, in the form of Hof van Cleve (pictured) and Oud Sluis. I'm afraid the UK did not come off well. Le Manoir delivered an excellent meal featuring excellent vegetables and consistently good technique, but perhaps the constraints of the number of covers it is serving preclude the really ambitious cooking that I was to experience in the following days in the Netherlands and Belgium.
Oud Sluis has ultra-modern cooking, but of a very superior kind, with complex dishes featuring unusual taste combinations that almost uniformly worked. Hof van Cleve was also modern but striving less hard to be so, and showed magnificent technique. Both these places were a step up from anything in the UK at present. For detailed reviews please follow the links, and there are extensive photos of the meals in the gallery. A nice touch in the week that the Simpsons movie was released were the utterly perfect doughnuts (or beignets if you are posh) at Hof van Cleve (pictured), which is near the beautiful town of Gent in Belgium (the view from our hotel is pictured).
Zuma continues to pack them in, producing accessible Japanese food in a trendy setting; everything was consistently good, for example spider crab roll and seared tuna with oriental salad. Yauatcha is another reliable success story, with lovely dim sum such as baked venison puff, char sui bun and excellent steam har gau dumplings.
Haandi has settled into producing some of the best Indian food in London at a very fair price. Chicken tikka was superb, as were the excellent vegetable curries: bhindi, aloo gobi and channa.