I try l'Anima
Saturday, August 09th , 2008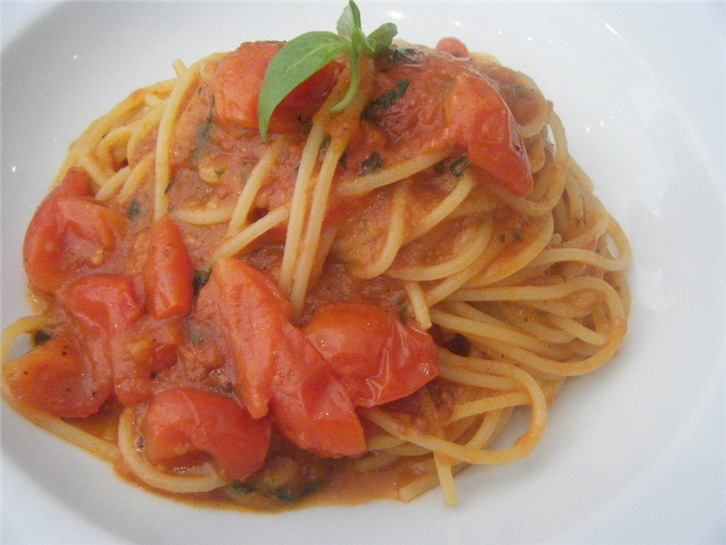 An upmarket Italian place in the City has the potential to be a nasty surprise, but
L'Anima
is quite the opposite. A kitchen team who mostly come via St Alban delivered a superb, simple dish of spaghetti with tomato and basil (illustrated) that was about as good as one could hope for, which set the tone for a very enjoyable meal. The room is airy and attractive, the service friendly and the bill not all that bad, though the set lunch menu oddly seemed about the same price as the a la carte.
Quo Vadis
has had a light touch of redecoration from its Marco days, with a more tastefully decorated room but the same style of long, appealing British menu. The chips and the summer pudding were successes, but there were less deft touches, which would be easier to forgive if the prices were not so hefty. Service left much room for improvement on the evening of my visit, and again given the prices, a little charm rather than the sense of being hurried along would not go amiss. Also, having one set of prices on the web site and another (significantly higher) set when your turn up leaves a sour taste in the mouth.
Fino
is in fact from the same stable as the new Quo Vadis. I haven't been for ages but I found this a very pleasant experience, with plenty of appealing tapas dishes, such as excellent pork belly, and a fine set of Spanish wines. They have done an impressive job with the basement space.
At
Zafferano
I enjoyed the new menu's salad of peas and broad beans, nicely presented with superb vegetables, and a lovely dish of pasta ribbons with summer truffles. In all my visits here I can hardly recall a technical error, yet tonight wild salmon appeared distinctly undercooked in the middle. I was more bemused than anything, as I actually quite like salmon sashimi, and the fish tasted good, but while I pondered this uncharacteristic lapse something interesting happened. The maitre d' wandered by, noticed the colour of the salmon, and without any inquiry from me apologised and whisked it away (along with, it transpired at the end, large parts of the bill, which was much lighter than usual – the salmon was not the only charge to disappear). A case of waiting staff 1, kitchen 0 on this occasion. There is no excuse for the chef screwing up the salmon, but I was impressed that the waiting staff would spot this and sort it out without as much as a word from the diner. As I come monthly to Zafferano, what must be over 100 visits by now have yielded precisely one serious cooking error, which is not a bad record. I hope it is not a sign of a broader malaise; I'll reserve judgement until September.
No such problems at Ambassade de l'Ile. This week we had a tasting menu of fish and shellfish for Stella's birthday, and the meal was another really fine example of top class French cooking. Langoustines were superb, but almost more impressive was a superb dish of sardines with ratatouille, such a humble combination yet combining to deliver a dish of beautiful simplicity. Nothing at this meal was below 8/10 level i.e. very solid two Michelin star territory. I had a chat with Shane Osborn of Pied a Terre this week, who was similarly impressed with the cooking here on his visit. This was my third full meal here since it opened, and I continue to be genuinely impressed. The menu even changes monthly, making things much more interesting for frequent return visitors and reflecting a healthy obsession with top quality, seasonal produce.
In other news, Anthony Worrall Thompson managed to recommend the use of a poisonous plant related to deadly nightshade as tasty in salads. Henbane is reputed to be the poison which Crippen used to murder his wife.