Some restaurants off the tube map
Saturday, February 04th , 2012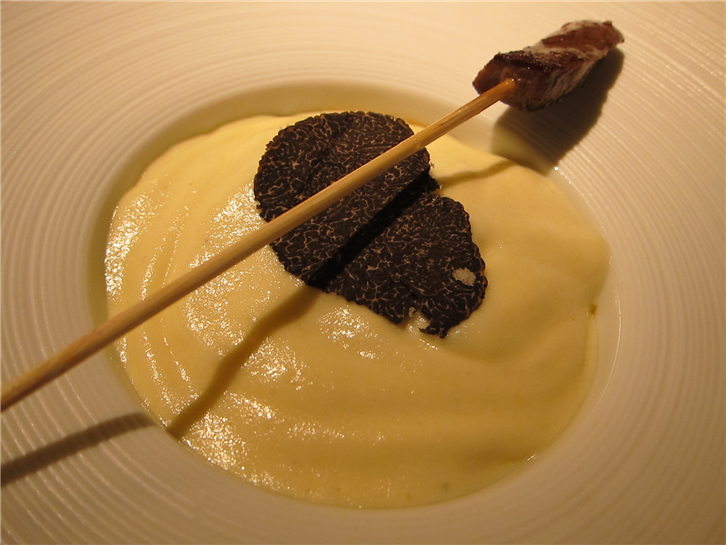 It was interesting to compare two Michelin starred restaurants both slightly out of London, but within fairly easy reach of it. Auberge du Lac is near Welwyn Garden City, set in a vast estate called Brocket Hall that is now mainly a golf resort and boutique hotel. The setting is very formal, seeming to aim at people looking for a posh night out, yet on my visit it didn't really live up to those expectations. The food was generally capable though over-complex, but despite quite good ingredients the dishes never really lifted above the merely pleasant. Service was a let-down, with lots of staff in formal attire who couldn't manage to top wine up or pay attention to the customers. If all this had come at a modest price tag then I would have felt merely a bit let down, but in fact pricing was high both for food and especially wine, which was at a level (4.5 times retail price on average) that many restaurants in Mayfair would be embarrassed to charge.

By contrast, Chapter One in Kent was much less formal but far more successful. Dishes were consistently bursting with flavour, with scarcely a technical flaw throughout the meal. Unlike Auberge, the chef was happy to send out a dish with just a few components, such as an Iberico pork chop on Savoy cabbage, but this dish was terrific, a fine ingredient showcased well without distraction. The star dish was jugged hare with a truffled mash (pictured). Service was top class, despite a much fuller dining room and less staff in proportion to the number of diners. Three courses at Auberge du Lac were priced at £60 compared with just £32.50 at Chapter One, whilst the latter's wine list was full of good value wines at fair mark-up levels. Choosing which of these two restaurants to return to would not be one of life's trickier decisions.

On the subject of good value, it was some time since I had been to Giaconda Dining Rooms. This is a very simple operation, with a tiny kitchen with a chef and an assistant serving a dining room that can seat around 30 customers. It serves simple, rustic food with bold flavours, but the cooking is precise and the dishes enjoyable. The wine list is very cheap by London standards too. My spaghettini with crab would have shamed many an Italian kitchen, while brill was accurately cooked and seasoned. With so many restaurants in the capital being over-priced, Giaconda is a reminder that it is possible to serve capable, honest food at a fair price in central London.

I am pleased to add a further chef interview, this time with Andrew McCleish of Chapter One.