This week I visited Vendome and Schloss Berg
Saturday, April 25th , 2009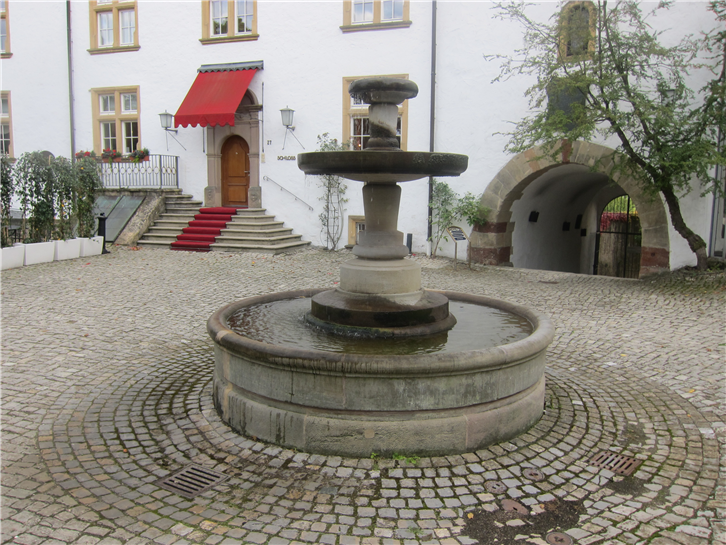 I returned this week to Foliage in the Mandarin Oriental Hyde Park hotel. The lunch was fairly priced, it had a pleasant setting and the wine list is unusually good for a hotel wine list, both in terms of growers and mark-up levels. The meal itself was a rather mixed affair, with a very good pea soup with ham hock, but otherwise a string of pleasant but otherwise unexciting dishes. There were no real technical errors, but I generally found the flavours quite muted. There was also one dish that did not seem to me to work at all. Service was slick and the experience pleasant, but something is wrong when the most memorable part of a meal are the petit fours (a pair of excellent Madeleines). I have retained the 6/10 on the site for now, but this was really only a 5/10 meal.
By coincidence, the Caterer reported that Heston Blumenthal may be opening a London restaurant at the Mandarin Oriental. The staff at Foliage were tight-lipped about this, but I suspect that there is some substance to the story. If it is true then perhaps chef Chris Staines has his mind on other things.
I also returned to two of my favourite three-star restaurants. I had a marathon 24 course meal over six hours at
Vendome
. Joachim Wissler's cooking is modern, but he uses good ingredients and the flavour combinations make sense, rather than being there to shock. There was a high level of technical skill on display, and very few slips during this journey of a meal. I will remember the purity of flavour of the shellfish bisque for a long time, while the pork "paper" was original and tasted wonderful.
It might seem hard to top this experience, but Christian Bau managed it at
Schloss Berg
, which is illustrated. The meal I ate there last year was the best I had all year; this meal was, if anything, even better. Ingredients were outstanding, including some superb beef with wonderful marbling. This meal had everything, with pretty presentation, superb produce, technical skill and delightful taste combinations. This is as good as any restaurant in the world, in my view, and deserves wider recognition. The English-speaking foodie press wax lyrical about the food in Spain and France, yet rarely mention Germany, yet the two meals I had this week confirm Germany is up there right at the top of the world culinary scene.
Talking of which, the San Pellegrino Top 50
list
came out at a gala dinner in London. As I mentioned last
year
when I was on the judging panel (now grandly called "The Academy"), the methodology has greatly improved since the first attempts a few years ago, and the blatant bias towards restaurants in the UK has now been removed from the system in terms of the way the voting is done. Nonetheless there is no shortage of surreal results.
On the positive side, the list gets people talking about top restaurants, which is a good thing. Moreover Michelin, despite its recent expansion, is by no means entirely comprehensive, and so it is good for restaurants that don't happen to be in Europe or Michelin's other coverage areas to get some attention. Nor indeed does Michelin have any right to be the exclusive arbiter of judgement about restaurants.
All this said, not too much should be read into the relative rankings. Chefs like invention, and it can be seen that the restaurants at the top of the list are all very modern in style. Does this mean that the food at El Bulli or the Fat Duck tastes better than at, say, Louis XV or Ambroisie? No. Indeed while it is possible to put restaurants into broad categories (as Michelin does) it seems to me problematic to differentiate so precisely within such categories.
Even if we ignore the tendency towards rewarding innovation over classical cooking, there are some entries that are baffling, to put it mildly. The #14 entry for St John I am sure has nothing to do with the fact that St John always hosts a lunch the day after the awards ceremony for the chefs. How about Nobu London at #34? It would surely struggle to make the top 34 in London in many foodie's eyes . Atelier de Joel Robuchon in Paris at #18 scores higher than all but two of the Paris three-star places, an obvious nonsense, and this is perhaps the clearest indication that the relative order of the restaurants means very little in culinary terms.
The UK press made much of Gordon Ramsay's flagship restaurant dropping out of the list entirely, but while there has in my view been a decline in cooking standards there, it has hardly been a dramatic change, which again says to me that the list is about fashion as much as anything to do with the food that turns up on the plate. So, I think it best to not agonise about the obvious anomalies, and just acknowledge that it is a clever piece of PR that gets people talking about restaurants, no bad thing in these difficult economic times.
Those following the TV show The Great British Menu will have observed Clare Smyth, head chef at three-star Gordon Ramsay Hospital Road, being knocked out of the first round of the competition by Danny Millar, a chef with no Michelin stars who cooks in a pub, but whose dishes seemingly (from the judge's comments) had plenty of flavour. Of course one should not take such things too seriously, but to me the lack of punchy flavours is a consistent issue in the GRH kitchen, despite the undoubted technical skills there. I am guessing that the commis chefs in Clare's kitchen kept their heads down the Monday after the results came out.