Relaxing in Goa
Saturday, January 19th , 2019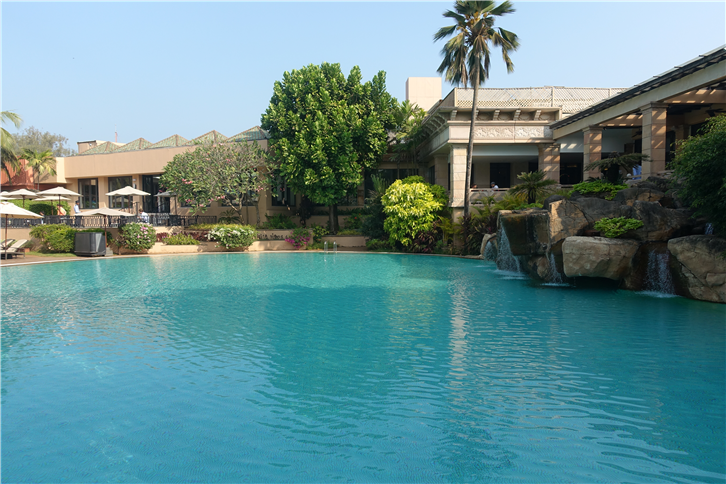 This week we had a beach vacation in Goa. This was my 23rd visit to India, though I hadn't been to Goa for almost a decade. It Is a nice spot if you fancy some winter sunshine, as in January the daytime temperature is typically around 30C, dropping to 20C at night, with a virtually guaranteed ten hours of sunshine daily in January, which is the sunniest month.
The Leela Palace in Goa is a beach hotel that first opened in 1991, situated a one hour drive south of the main airport. It is an extensive, low rise property spread over 75 acres of landscaped gardens, with the 210 rooms set out in groups around artificial lagoons, all within an easy walk of the extensive private beach. The hotel has a well-equipped spa and gym, tennis courts and a pitch and putt golf course amongst its facilities. There is a large open-air pool overlooking the golf course, a little casino and a few shops. If you are feeling idle then there is a fleet of little electric golf carts cruising the property that can give you a lift to where you need. The hotel, incidentally, has 775 staff, with the consequent staff to room ratio of 3.7 being triple the current average of 1.2 for a five star hotel in India, so there is always plenty of help on hand for just about any requirement that you may have. It is a very civilised spot.
The hotel has three restaurants in addition to a beach snack bar. An all-day restaurant in the main building one serves a wide variety of different food including an extensive buffet, and there is also an Italian restaurant overlooking the water and a more formal Indian restaurant called Jamavar, The smarter restaurants are only open in the evening. Additionally there is a separate "Club" area with its own exclusive lounge, dining room and bedrooms, and with its own private pool. We ate at the Jamavar throughout our stay, having explored a few local dining alternatives on previous trips here, and having found nothing close to it in standard.