A busy week includes Dinner in more ways than one
Saturday, March 05th , 2011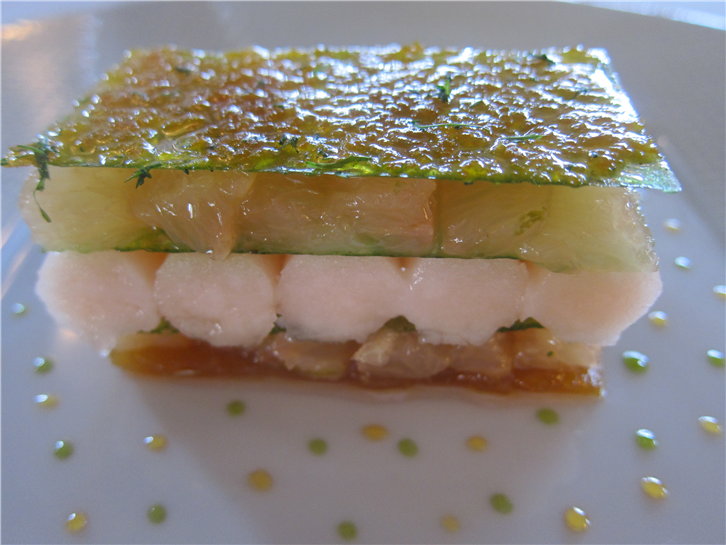 Royal China Putney is not related to the main Royal China in Bayswater (and Baker Street). It was once part of this group, but they parted company many years ago. Sadly the cooking standards also appear to have departed, based on a pretty mediocre meal this week at the Putney restaurant. To add insult to injury, service was terrible, of the kind that I vaguely remember in places like Won Kei in Chinatown decades ago.
Chisou is a well-established Japanese restaurant in Mayfair that I have managed to overlook until this week. I was impressed with the quality of the prawns in particular that were being used, and had an excellent dish from the a la carte menu in addition to my set lunch. Even on a weekday lunch Chisou was full, and they have opened a sushi bar next door as well.
Ledoyen in Paris delivered a stunning meal this week. See the review for details and lots of new photos (an example is pictured), but what struck me overall was the gulf that exists between restaurants like this and the top restaurants in the UK: the ingredient quality and technical precision on display here are simply in a different league to even the best UK restaurants.

Talking of which, Dinner by Heston Blumenthal has certainly been the London restaurant of 2011, and I finally managed to get a table this week. Doubtless you will have already read one of the numerous reviews that appeared the day after it opened, so I can only offer a personal perspective. It seems a restaurant that is very much in the character of the Fat Duck, with its playfulness and strong cooking technique, just on a much larger scale. I didn't take to all the dishes, but the best ones were lovely, and I got the sense that the cooking will develop significantly; it has only been open a month, after all. The hype is hard to live up to, and I can imagine some people being disappointed, but I found a great deal to like about Dinner. Well done to Ashley and his team for taking the high ground, showing off British cooking, and not just grinding out another bistro, as so many others have.

Apsleys cooking continues to develop in sophistication, the kitchen turning out some really accomplished dishes at a lunch visit this week. Lobster tagliolini in particular was magnificent, as was a slow-cooked chicken dish, while desserts have been a strength here from the beginning. This is perhaps the most under-rated high end restaurant in London.
The Michelin France 2011 Red Guide came out, with no new 3 star entries (the first time this has happened since 1992) and a demotion for Michel Trama. There were five new two star entries, including Passage 53, where the cooking of Shinichi Sato has been making culinary waves. Jean-Francois Piege (who has struck out on his own after gaining two stars at Les Ambassadeurs at the Crillon) and the recently moved l'Atelier du Joel Robuchon-Etoile were the other Paris eateries elevated to two stars, in addition to Thierry Drapeau Logis de la Chabottiere and Villa Archange outside of Paris. Incidentally, this tally means that Japan has more three star restaurants now than France (26 in Japan, 25 in France).
I was very pleased that my wine app was mentioned in the Guardian this week. Hopefully the app will help make the pricing of wine in restaurants more transparent.
Incidentally, if you live in the UK and have an iPhone via O2, you will find that as of this week your phone can no longer access "adult" web sites, which includes things like wine sites and assorted other dubious sites, plus my wine app, unless you manually "opt in" to such content. You need to dial 61018 from your mobile, or go to here in order to prove you are over 18 to O2. Heaven forbid that someone under 18 would look at a web site with bottles of wine listed, or possibly even illustrated. Lucky they can't do that in shops - eh O2? I will not say what I think of O2's decision as otherwise my language would doubtless cause this site to be blocked too. The problem does not occur over wi-fi, which is a good job. Luckily it is inconceivable that someone under 18 would ever think of using wi-fi to access a web site.
In other news, Shane Osborn is leaving Pied a Terre to go travelling. Marcus Eaves of Autre Pied takes over; quite a risky transition for the restaurant, and from a personal perspective especially so after my disappointing last meal at Autre Pied: we shall see. I wish Shane well: he is a dedicated and talented chef.