Virgin Territory
Saturday, April 04th , 2015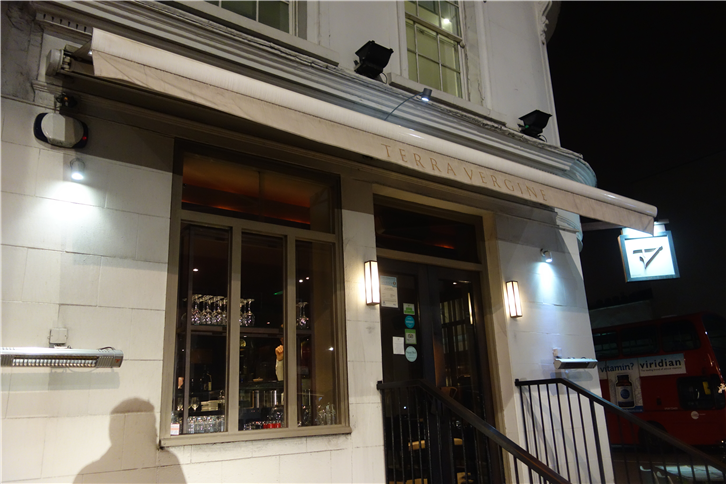 Terra Vergine (pictured) is trying to carve out a regional Italian niche, bringing London the cuisine of Abruzzo (the region east of Rome). The chef is from that area and produced some good dishes, such as the specialty of lamb skewers, as well as very good freshly made chitarra pasta with hearty wild boar ragu. Even the wine list is mostly stocked with wines from Abruzzo. Our waiter was excellent, and this little place deserves more than the handful of diners that it had on the night of our visit.
This is more than I can say for Shumiken, a Chinese restaurant in the surprisingly smart new Dorsett Hotel on Shepherds Bush Green. This flashy place sits uneasily with the pound shops and bookmakers premises nearby, but is presumably a sign that even this distinctly raffish area of London is being gentrified. The dim sum in the restaurant was quite good, but their speciality duck was very ordinary, and the noodles served with it were dismal, watery and utterly lacking in flavour or seasoning. Throw in some well-meaning but amateurish service and this place is scarcely better than its more casual and disappointing sibling Pictures.
Galvin at Windows has a 28th floor view over London. Usually restaurants in such locations do not try too hard, knowing that they will be full anyway due to their steady supply of tourists coming to gawk. However Galvins never takes things for granted, as its Michelin star testifies, serving well-executed classical French food and particularly silky smooth service. Desserts in particular are very good, such as a moist rum baba and a velvety chocolate mousse. The wine list is not one to splash out on, but other than that it is a very enjoyable dining experience.
Diwana Bhel Poori has been a regular haunt of mine since I moved to London in 1983. It served excellent Gujerati snacks and dosas (and less good curries) at a very low price indeed. The bhel poori, with its well-judged tamarind sauce, is as good a version as I have eaten anywhere. This along with generous and delicate samosas and very good aloo papri chat, are enough collectively for a light supper for two. With a sweet lassi apiece this came to £7 a head before tip. Yes, £7 a head for genuinely tasty food. If you have more time then there are other good snacks, dosas and home-made kulfi for dessert. A great little place.
The Elite Traveler Top 100 Restaurant list came out this week. Unlike others, this is based on the votes of paying diners. so looks rather different to other lists compiled by industry insiders. The magazine has a lot of US readers so New York restaurants in particular do well, but the list also has some intriguing entries that are excellent but elude other lists of this kind. Here is the list.
Incidentally, due to a diary gaffe I needed to get the Galvin at Windows reservation at very short notice, and for this used the new Uncover mobile app. This (currently London only) app teams up with restaurants and displays reservations on that day only, which allows restaurants to shift tables that appeared via cancellations. Worth a look if you ever need a table that same day.