The South African Wine Region
Saturday, December 12th , 2015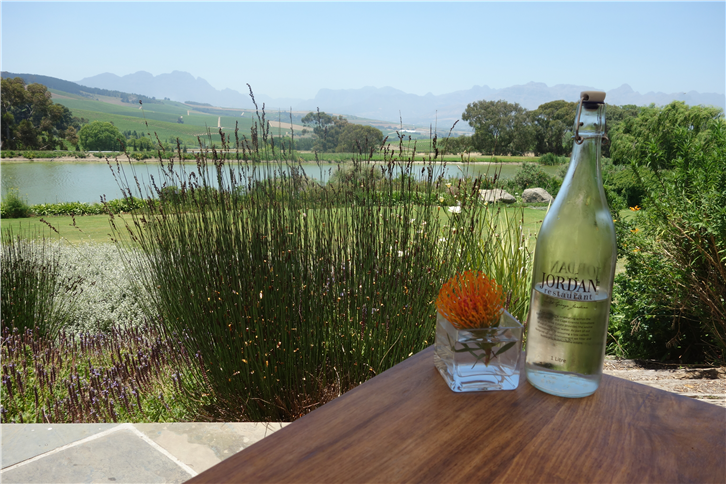 The main wine areas of South Africa are not far from Cape Town, the nearest being Constantia, Stellenbosch and Paarl, with Franschhoek about an hour's drive from the city. This countryside contains many of the nation's top restaurants. We stayed at Quartier Francais in Franschhoek, a small but prosperous town nestled under the nearby mountains. The town is full of art galleries, coffee shops and the like, immaculately maintained. At present the South African rand is very weak compared to sterling, so as a visitor everything seems very reasonably priced. The one thing that I did find puzzling was how slow the internet is: South Africa ranks just 81st in the world for internet speeds, below such high tech titans as Morocco, Egypt and Romania - even Mozambique can manage a faster connection. I tried several Wi-Fi connections in assorted locations, and discovered that a download speed of 1 MBps was a distant aspiration in practice (the fastest that I encountered was well below one-hundredth the speed that I have at home). Fortunately the lengthy wait for pages to load can be spent sipping the excellent wine that the country has to offer.
At the Moreson winery we tried Bread and Wine, which has a beautiful setting and outdoor dining room overlooking the nearby vineyard. The food was rather erratic, with a truly dismal dish involving soggy fried shellfish, though there were some other quite pleasant culinary offerings. The very affordable wines compensated.
Ryan's Kitchen is a restaurant on the outskirts of Franschhoek with exotica such as wildebeest tataki on the menu. They did a little better when cooking simpler food such as Parmesan croquettes, and certainly the prices (at least as a tourist) seem so low that it is at least good value.
Foliage in Franschhoek has a quite ambitious menu with dishes that tend to have a lot of components on each plate. This is not necessarily a good idea, though the service was excellent, and the bill was extremely cheap. I suspect that chef would do better to focus on less elaborate dishes.
Jordan was a more impressive experience, another winery restaurant with a stunning view (pictured). A duck dish and both desserts that we tried in particular were very good indeed, service was lovely and the bill again seemed almost embarrassingly low for what had appeared on the plate and in the glass. This is a place I would highly recommend, especially if you can come at lunch to take advantage of the beautiful location.
Next week I will cover my meals at Test Kitchen, The Tasting Room at Quartier Francais, Rust en Vrede and La Colombe, which completed my culinary tour of Cape Town and its nearby wine region. This set includes the three restaurants rated highest in the local Mercedes Benz Eat Out awards, which appears to be the most well-regarded of the local guides, and the only two South African restaurants to feature in the San Pellegrino List.
The 2016 Michelin Guide to Tokyo came out. There was a new three star in the form of Kiharo, the sister restaurant of Ishikawa; Kohaku had held two stars since 2012. This brings the total number of three star restaurants in Tokyo to 13, the most of any city in the world. It also has a still vast number of 51 two star restaurants despite six demotions (including the lovely Rakutei, where the owner sadly died), with promotions for Beige, Dominique Bouchet and Monomoki. There are 153 one star restaurants, and I was pleased to see a star for the excellent Florilege.
The 2016 Michelin guide to The Netherlands was published. There was no change at the three star level, and a solitary new 2 star, De Groene Lantaarn in Zuidwolde. The country has a pair of three star restaurants, 20 two stars and 85 one stars, including seven new ones. Not a single restaurant was demoted at any level.
The Michelin 2016 Guide to Italy also came out. There was no change at the three star level. Combal Zero and Il Mosaico (closed) were demoted, and Gourmetstube Einshorn was elevated to two stars. Italy now has 8 three stars, 38 two stars and 288 one star restaurants. The only remaining 2016 guides are Belgium (December 14th), France (late February), Sao Paolo and Rio de Janeiro (March), Scandinavia (late March) and the Main Cities of Europe, which picks up Eastern Europe (late March). It was also announced that in November 2016 a Michelin 2017 guide will be published for Singapore, but it was unclear whether this was to be a one-off guide (like some of the guides to Japan's regions) or a permanent addition to the Michelin stable of country guides.
In other news, I was asked by Forbes magazine.to suggest a few favourite restaurants.