Tales of City Dining - San Francisco
Saturday, June 04th , 2016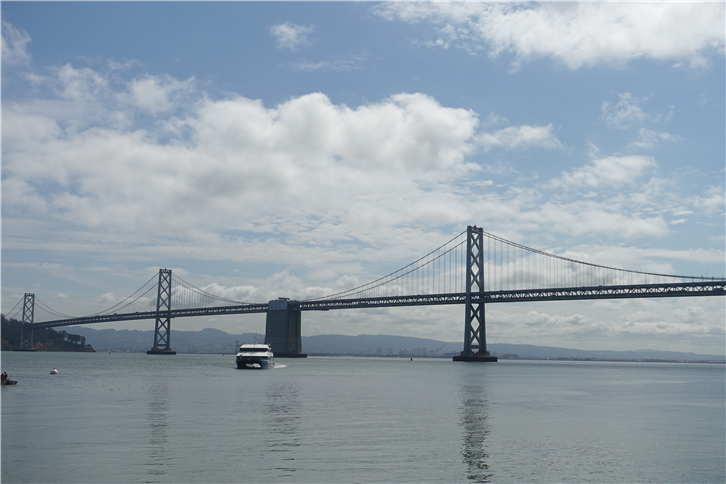 San Francisco is my favourite American city: it is less brash than New York, warmer than Chicago, prettier than Los Angeles. Its districts feel very distinctive, with the posh Victorian houses on Nob Hill, to the chaos of Chinatown, the rugged beauty of North Beach to the eccentric charms of Russian Hill, the setting for Armistead Maupin's iconic series of novels "Tales Of The City." There are a great many eating places tucked away in these various districts, and these days the restaurant scene is booming, fuelled by Silicon Valley riches. On this trip I tried two of the latest three places to be awarded a second Michelin star. Acquerello is hardly a new restaurant, serving its Italian cuisine since 1989, so why it was suddenly promoted is a mystery known only to Michelin; It is certainly a puzzle that eluded me. The dining room is peaceful and the waiters very professional, the cooking quite ambitious and pleasant. Their signature pasta dish with foie gras and black truffles was pleasingly rich and the best dish, on the menu since the restaurant opened. Other dishes ranged from fine to ordinary, and overall this seemed pretty expensive for what it was. Would this get two stars in Rome or Milan? Unlikely.
Campton Place at the Taj hotel now serves a fusion of Californian cuisine with a distinct Indian influence, which with my love of India rather intrigued me. It was very much a hotel dining room setting, complete with waiters who had barely finished the breakfast service. The cooking is playful, and I enjoyed a lobster dish with coconut curry and puffed rice, though quite what a fried egg was doing on top of my tandoori chicken rather eluded me. It was rather eccentric but quite enjoyable food, though it is laughably far away from the two Michelin stars that it currently has. Indian Accent in Delhi offers the kind of modern take in Indian food that I was hoping for, but Campton Place is a long way from that. If you ignore its rating, the high price and the surreal hotel setting then the food is actually quite enjoyable. However its two Michelin star rating is bonkers.
I also tried two ultra-trendy restaurants, both of them nightmarish to book. AL's Place showcases the mostly vegetarian cuisine of Aaron London, who impressed me when he was cooking at Ubuntu. The food at his new venue demonstrated flashes of his undoubted talent, such as a terrific campanelle pasta dish with asparagus pesto, and an excellent Thai style pea curry. Not everything was to this level though, and the meal was much less consistent than Ubuntu.
Another restaurant that could hardly be more achingly fashionable is State Bird Provisions. Reservations here are as elusive as the gold that brought prospectors to the city in the mid 19th century, but they do keep half the seats back for walk-ins. This has led to notorious queues, the line for the 5:30 dinner opening starting as early as 3 p.m. The food here was enjoyable, but I think the reason for the success is partly the approach of having a short menu supplemented by dishes that emerge from the open kitchen and are brought around the dining room on trays by the chefs, encouraging you to graze. The staff are young and energetic, and the atmosphere is lively, the cooking good in patches but also rather erratic in standard.
I also found time to try a local burger Wes's Burger, a former pop-up turned permanent restaurant whose chef won a competition for best burger in the city in 2013. The all-brisket burger was very good, though Wes no longer makes his own buns. I also sampled one of the more fashionable pizza places, Jersey, which to be honest seemed merely expensive and rather ordinary, though completely packed on a Tuesday lunch. I wonder how all these currently busy restaurants will fare when the inevitable economic downturn next hits. San Francisco certainly has a vibrant dining scene, but even in the 1990s in the days of Jeremiah Tower's "Stars", Wolfgang Puck's "Postrio" and Alice Waters' "Chez Panisse" it seemed to me overly hyped, and the inconsistent meals I had on this trip did nothing to change my impression. There is a great deal to love about the city, but I am not convinced about the feverish excitement surrounding its latest restaurant renaissance. My complete set of reviews of the city's restaurants, which now includes all the multi-starred places in the area except one (Commis in Oakland), is here.
In other news, Michelin will apparently have a 2017 guide to Washington DC, in addition to their New York, Chicago and Bay Area guides. Let us hope it does better than their Las Vegas and Los Angeles guide, which was closed down in 2010 after two years due to poor sales. I will also be curious to see if they can find enough high quality restaurants there to actually fill a book.