A varied week, including a return to Hibiscus
Saturday, November 26th , 2011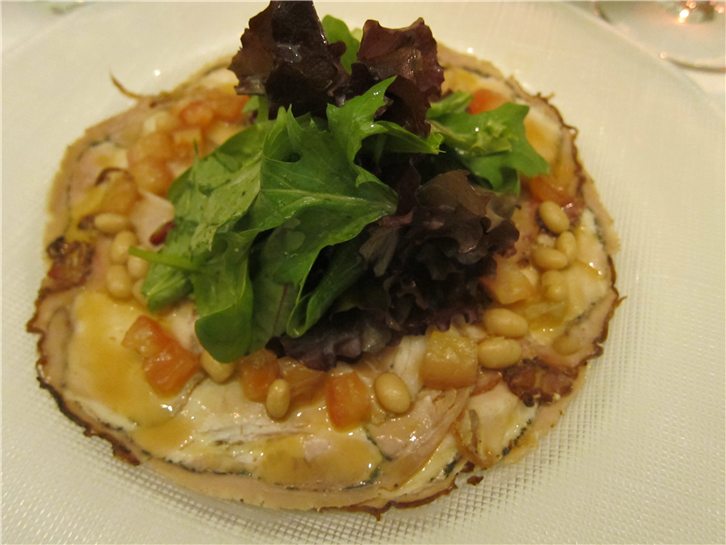 Alloro is in the same restaurant group as Zafferano, but is mostly below the press radar. It also serves Italian food, and dishes are presented well. The cooking throughout the evening was excellent, with lovely pasta and a very good suckling pig salad (pictured). The only thing that marred the evening a little was the erratic service, with the waiters (with a single honourable exception) possessing a remarkable ability to glide past our table without catching my eye. They were all very stylish and serene, but serene doesn't get my wine glass topped up. However the food itself was only a smidgeon below my regular Zafferano, and this is certainly a place I would recommend.

I returned to Hibiscus, a restaurant that I can never quite make up my mind about. Over four meals here I have had some very good individual dishes, but in general there seems to me a tendency towards complicated food, not always with successful results. It was interesting that the dishes I enjoyed the most this week were the simplest, the lovely cheese gougeres and the venison with a rich red wine sauce, which were both fine dishes. The cooking is undeniably capable, but I don't find it very engaging.

Sand's End in Fulham has a new chef: Chris Slaughter, formerly of The Crown in Maidenhead. The food is already showing signs of improvement, with an excellent fallow deer chop with red cabbage the star dish of the night. This is a pub with a short but well-chosen and fairly priced wine list, with an average mark-up level of 2.5 times retail price. I pay a lot more attention to mark-up levels in restaurants now that I have the Wine Search iPhone app, and it tonight I went for a wine at the high end of the list, simply because the mark-up was very fair. A lovely wine that retails at £58 here was on at £72, so gave a profit to the pub of £14. At the bottom of the list was a £15.50 wine that retails at £9. So for effectively an extra fiver I could drink a wine over six times the price of the cheapest wine on the list, and very nice it was too. The point I am making is that fair mark-ups encourage diners to splash out a bit, and everyone wins: the restaurant makes more (absolute) profit and the diner has a happier night. At Hibiscus (which has far from the priciest list in London) £72 would have bought me a £20 wine, by comparison.

Potli is the latest place to follow the fashion for Indian street food (driven by the success of Dishoom). Nothing wrong with that, but you have to be actually able to cook it, and there was scant evidence of that at my visit to Potli. Bone-dry bhel poori and overcooked chicken were just poor, and although a couple of decent vegetarian dishes saved the meal from complete oblivion, it was hard to get excited about the food here.

The Modern Pantry has an unusual menu and delivered an enjoyable late supper for me this week. A variant of Scotch egg made with little quail eggs and chorizo worked well, as did a pancake with crab, sweet corn and coriander with a mild chilli dressing.
The Michelin 2012 Guide to Belgium appeared this week, the big news being a promotion to 3 star level for Hertog Jan in Bruges, where Gert de Mangeleer serves up his modern dishes. There were also promotions to two stars awarded to De Jonkman and Le Chalet de la Foret (and oddly, according to the press release, to the restaurant t'Zilte, which had two stars last year yet was noted as a "new" two star).

This week the 2012 Michelin Guide to Spain also came out. At the top level El Bulli of course has now closed, and Can Fabes in Sant Celoni was demoted to two stars following the sadly premature death of its head chef Santi Santamaria. Newly anointed to the two star level were El Club Allard and Diverxo, both in Madrid, while Abac in Barcelona regained its second star. Portugal gained a second star with Ocean in Faro.