Riverside Dining
Saturday, October 10th , 2015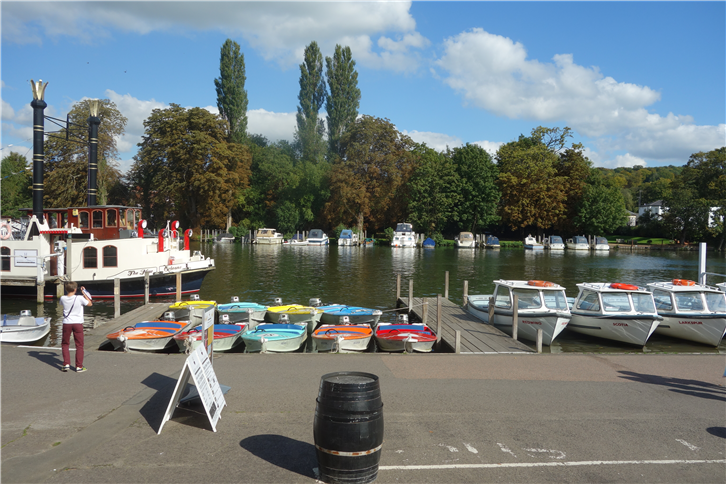 The Boathouse in Henley has a terrace with a river view and a chef (Shaun Dickens) who has worked at some serious restaurants. We enjoyed an excellent meal here, with a crisp leek with beef carpaccio being particularly impressive, as was stone bass with ricotta and agnolotti pasta. The skill level was high throughout the meal, with a fine dessert in the form of rich coffee and chocolate with caramel and chocolate "aero", with a delicate cappuccino tuile. This was a genuinely good meal, and if you are ever in the Henley area I recommend the place highly.
Diwana Bhel Poori in Euston is a café that I have been visiting for thirty years now. Its Gujerati snacks are some of the best you will find in London: samosas are bursting with spicy filling, and the aloo papri chaat has tender vegetables and a careful blend of chutneys. Bhajia mix comes with a spicy tomato chutney, and the bhel poori itself is a thing of beauty, a fine balance of tamarind sweetness and spice and multiple textures. All this, with a sweet lassi to share, cost me £11 a head. That is for the whole meal, including service. This is surely the best value restaurant in London bar none.
I associate cinema food with packets of overpriced popcorn at best, but The Olympic Studios Café in Barnes is a very different affair. Attached to a private member's club and luxury cinema, this is a proper restaurant, with a chef who had a solid track record at Racine and Garnier. The modern British food is very well prepared, such as a capable beef tartare with sourdough toast and salad. Scallops with chorizo, celeriac and peas were also very enjoyable, as have been other dishes at previous visits. There is outdoor seating in good weather, and on a sunny day (as this one was) it is a fine spot for lunch before settling down to watch a movie in a comfortable armchair.
The 2016 Michelin guide to Switzerland came out. There is a new three star in the form of Cheval Blanc at the historic Grand Hotel in Basel. This brings the total for the country to three, the same as the UK at present. There are also 18 two stars (no new ones) and 95 one stars, with thirteen new one stars and fourteen deletions, including the Rasoi by Vineet, following the deletion of his star from his flagship London restaurant in the 2016 UK guide..