The Italian Lakes
Saturday, June 22nd , 2013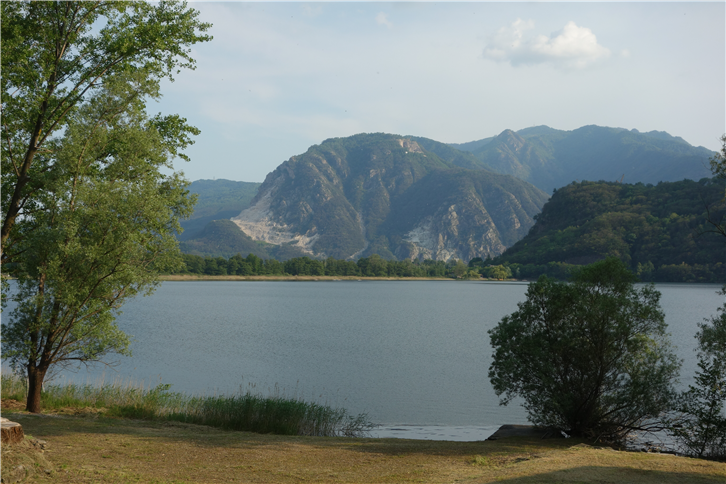 The Italian lakes area north of Milan is a particularly beautiful part of the world, with several fine lakes lined with magnificent villas. It is also home to some excellent restaurants. As well as Al Sorriso, it has Villa Crespi and Piccolo Lago. Villa Crespi is set in a lovely Moorish-style villa, adorned with intricate stonework, near the shores of Lake Maggiore. Its cooking is fairly classical and based on the top quality ingredients that can be found in that area, such as superb shellfish. I had a lengthy tasting menu that maintained a very high standard of cooking throughout, with service to match. This was a lovely setting for a top class restaurant, and I highly recommend it.
In an even more beautiful spot is Piccolo Lago, on the shores of a much smaller lake called Mergozzo. The setting, with the dining room overlooking the lake and opposite an imposing hillside, is truly spectacular. If there is a lovelier view from a restaurant table anywhere in the world then I would like to know where that is. The cooking was also top notch, slightly more modern in style but also making the best of the fine local produce, such as lake fish and Fassone beef. If you have never been to this part of the world then you have a treat in store, and if you are able to then try these two restaurants as well as Al Sorriso. I stayed in Stresa, opposite the gorgeous Isola Bella, an island with a small palace and lovely gardens that are open to the public when not in use by the family that own the property.
Back in London I tried Clove Club, the epitome of fashion in London dining at present. It ticks all the boxes: it is in Shoreditch, uses fashionable ingredients and has ultra-cool staff, all things calculated to deter me. However, in contrast to the over-hyped Dabbous, there is care and attention to ingredients, with charcuterie made on the premises and excellent sourdough bread made from scratch. The cooking was generally very skilful, so the dishes actually tasted good rather than just looking pretty. Some fashionable London chefs seem to be more interested in presentation and wacky ingredients than flavour and whether the dishes actually work as a whole, but The Clove Club does not make this mistake.
At the opposite end of the fashion stakes to Clove Club is Otto's, a traditional French restaurant where you can get dishes like crepes Suzette and crème brulee. What drew me to it was the promise of pressed duck with a proper duck press, a dish invented by Tour d'Argent in Paris, who number the ducks individually and even give you a little postcard of the duck when you leave. Otto's has a proper silver duck press and had gone to the trouble of importing duck from the same Challsn supplier that Tour d'Argent use. All this showed much promise, but although the German owner is a very engaging front-of-house manager there were problems with the cooking. The duck was slightly overcooked, and the crepes were heavy and thick. This was a shame as this is the kind of place that I was really hoping would deliver.
Five Fields is a new French restaurant in Chelsea that has clearly been the subject of considerable investment. The team there are quite experienced and are aiming at quite a high level of culinary ambition, the elegant dining room a pleasant change from the bare walls and distressed furniture that seems de rigeur in Shoreditch and elsewhere these days. However, although there were one or two very good dishes, and some nice bread that they make from scratch, there was some inconsistency too. Certainly if this places settles down and finds its rhythm it will be very interesting.