The cooking at The Royal Oak is as solid as its name
Saturday, July 31st , 2010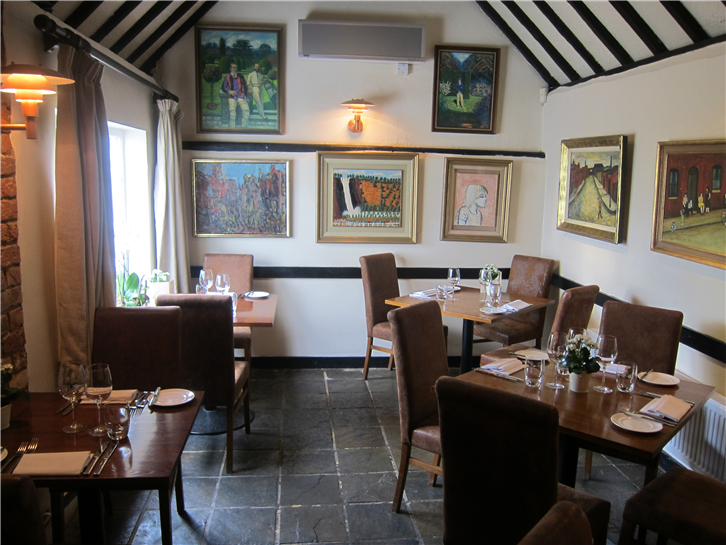 This is my second visit to the Michelin-starred Royal Oak pub near Maidenhead (near is a relative term; our sat nav, with the correct post code, took us confidently up a track to a farm this time after we drove up from Ascot; coming from the London direction works better). This time there were none of the little slips which caused me to dock the overall the score by a point. On this occasion the meal offered good ingredients, pleasant presentation, strong cooking technique and dishes where the ingredients made sense together. To me this thoroughly deserves its Michelin star, and I have nudged the score up to 6/10 to reflect this more consistent meal.
Andrew Edmunds is a long-established Soho eaterie offering simple British food and a wine list that must be one the fairest priced lists in London, if not the UK (if you know of anywhere with an ultra-cheap wine list i.e. with low mark-ups, then me know). Some wines are just a few pounds above retail price, and I gather that the frequently changing list can sometimes offer choices priced below what can be purchased retail. The drawback is that the restaurant is seriously cramped, with tiny tables and uncomfortable, hard wooden benches. The food was generally fairly priced and quite capable, other than overcooked tuna in one dish, and desserts in particular seemed a strength based on this meal. The rapidly turned tables and people being turned away at the door on a Tuesday are a testament to how successful this formula is.
Regular readers will be aware of my admiration for the pizzas produced at Franco Manca, so I won't repeat myself here. Suffice it to say that they remain on good form, and the dining room was completely full, with tables being turned, on this weekday night; this is a business that deserves to do well, so it is nice to see it prospering.
I notice that Guy Savoy in Paris have done a major revamp to their web site, which is worth a look if only for the video. With people's doing more and more on-line research prior to choosing and selecting restaurants, it is increasingly important that restaurants present a good web presence. The old days of a garish page with an address and phone number and an "in progress" notice will not do any more. Do you have any examples of the best (or worst?) restaurant web sites that you have encountered? If so please comment on this blog.
I recently wrote about the "Scores on the Doors" scheme in London (and now going nationwide). It seems that the transparency bug is catching, as New York residents can now take advantage of a similar scheme, with a web site showing the hygiene scores for all New York restaurants. The system scores a number of violation points, so the lower the score the better, with broad grades of A (0-13 points), B (14-27 points) and C (greater than 28 points). The list is pretty complete, with no less than 23,511 restaurants listed. Looking just at the restaurants I have reviewed, the list goes (from worst to best):
Babbo 25
Marea 21
Jean Georges 17
Masa 17
Union Square Café 16
Gramercy Tavern 15
Daniel 15
Nobu 14
Le Bernardin 12
Eleven Madison Park 10
Aureole 9
Maya 6
Per Se 0
Congratulations to Thomas Keller's Per Se with a perfect hygiene score.
On other news, Roux at Parliament Square is looking for a new head chef after Daniel Cox "stepped down" after just a couple of months in the role; the background to this change remains opaque, but a new head chef will be appointed in due course.